Transparent Materials
Stratasys transparent 3D Printing materials combine high dimensional stability with surface smoothness. The transparent material (RGD720) is a multipurpose transparent PolyJet photopolymer for standard clear plastics simulation.
In our transparent material range, we also have VeroClear (RGD810) which is a rigid, nearly colorless material featuring proven dimensional stability for general purpose, fine-detail model building and visual simulation of transparent thermoplastics such as PMMA and recently added is the VeroUltraClear model material (simulating acrylic) which achieves 95% light transmission of that material, and is useful for prototypes of glass, clear polymers, or transparent packaging.
Transparent materials are ideal for a wide range of applications including:
Medical Applications
Visualization of liquid flow
Glass, eyewear, lighting covers, and light cases
Exhibition Modeling
What printer can they be used on?
Vero Clear can be used on the following systems: Objet 1000, J720, J850, J835, J55, J750 DAP, J826, All Connex 3, Objet 1 & 3 systems, Objet Eden 260VS, Objet 30 Prime & Pro.
Vero UltraClear can be used on the following systems: J850, J835 & J826
New to 3D
Printing or looking
for some support?
Get in touch
Trade in
and trade up...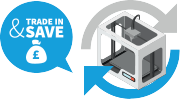 Your old 3D printer could be worth far more than you think!
Find out more