Unbeatably strong for the most rugged applications, thermoplastics are a mainstay of AM
Unbeatably strong and trusted throughout global industry, thermoplastics are a mainstay of 3D printing. Here's what to know about these innovative materials, the advantages of the main varieties and how to use them with Stratasys 3D printers.
The number-one choice for the toughest 3D print projects
Study the consumer products created around the world using 3D printing and you'll realise the increasingly important role played by thermoplastics. And no wonder. When a modern engineer sets out to design a new product, the best way to anticipate its real-world performance is to create a prototype from the most similar material possible.
That's where thermoplastics come into their own, letting engineers optimise their designs with an almost limitless choice of materials including ABS, polycarbonate and countless blends (not to mention the thermoplastics specifically created for aerospace, electronic, medical, automotive and other specialty applications).
But thermoplastics aren't only used for prototyping. They're often an effective choice for final products, too, offering one-off properties that span from biocompatibility, transparency and FST certification to chemical and thermal resistance. Just as important, as we'll discover, the defining quality of a good thermoplastic is its unparalleled strength.
Using thermoplastics for FDM 3D printing
At a basic level, additive manufacturing (AM) uses a layer-based process to convert the designs on your laptop into plastic parts. Direct from computer-aided design (CAD) files, automated machines add material layer-by-layer – making it simple to quickly produce highly complex parts in large numbers.
A wide range of industrial-grade thermoplastics are used in the FDM process, including high-performance engineered materials. These thermoplastics are composed from the same raw stock as injection moulding materials, and are suitable for applications spanning from initial concept modelling through to product development and final manufacturing.
Choosing the right thermoplastics for 3D printing
As with moulded parts, there is a spectrum of thermoplastics available, each offering unique qualities designed with a particular application in mind. When you choose, bear in mind the critical importance of material stability and durable performance, before carefully weighing up the mechanical, thermal, electrical and chemical qualities – plus any changes that might result from ageing or environmental exposure.
In AM, the process dictates the materials used – and vice-versa – making it fairly straightforward to establish which thermoplastic suits an application. The key is to understand the properties that make each FDM material unique. When choosing, you should always factor in the following:
Material qualities
FDM machine availability
Support material type
Colour
To find the optimal thermoplastic, balance these material characteristics while never losing sight of your overarching priorities. As you study the resulting shortlist, you might find that a certain material demands inclusion due to a key performance standard (eg. chemical inertness) or personal preference (for example, no-touch post processing).
All FDM materials have common qualities when it comes to loading and building parts, office compatibility (they're also safe enough to be handled without protective gear). Add to that, the parts produced by each material are dimensionally stable and rugged enough for even highly demanding applications.
Advantages of ABS for 3D Printing
ABS is a well-known thermoplastic and the most commonly used material in the FDM process. That's no surprise when you consider its properties. ABS materials are a good choice for models, patterns, prototypes, tools and end-use parts, with 40-60% improved strength over the FDM materials of the past, with increased tensile, impact and flexural strength.
Specific to the Fortus range of Stratasys 3D printers, ABS-M30TM is the plastic formulation often used for FDM.
In their raw filament form, these materials are near-identical with equal mechanical properties. Look harder at the data sheets, though, and you'll see differences between ABSplus and ABS-M30 in finished part material properties. As with moulded parts, processing makes an impact, with the advanced hardware and software of the Fortus Stratasys 3D printers processing the materials differently. The resulting material properties achieved from ABS-M30 are improved (while ABSplus produces tough parts, ABS-M30 is generally stronger across all categories).
Both materials make stable, strong and durable parts, while both are sold in colours including white, black, blue, red, green and fluorescent yellow. Another quality these FDM mainstays have in common is that they are easy to finish. As with most AM processes, FDM printers use a sacrificial support structure to build the part, but almost uniquely, ABS materials have no-touch support removal. A soluble support material eliminates manual labour: parts are placed in a tank and supports dissolved away.
Advantages of ABS-ESD7 for 3D Printing
ABS-ESD7 is a Stratasys-produced electrostatic dissipative material, available for FDM. This thermoplastic stops static electricity buildup, making it perfect for applications in which a static charge risks damaging products, compromising performance or even causing an explosion.
In light of that, ABS-ESD7 is perfect for carriers and organisers for electrical components, fixtures for electronic component assembly and production line and conveyor parts. Other potential applications include product design and validation for electronic product enclosures, electronics packaging materials and powder or mist conveying or dispensing.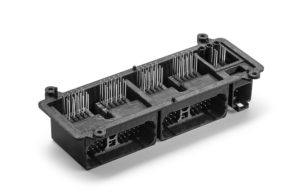 Running alongside those advantages, ABS-ESD7 also addresses another problem associated with static electricity: the attraction and buildup of particulate, like dust or powders, which can degrade product performance. Add to that, ABS-ESD7 will not attract atomised liquid, which explains its use for asthma inhalers (which administer the entire drug dose to the patient and leave no mist on the internal surfaces of the device). All mechanical properties of ABS-ESD7 are within 5% of the ratings for ABS-M30.
Advantages of ABS-M30i for 3D Printing
Any equipment used in sectors like medical, pharmaceutical and food handling is governed by tight regulations. These rules are in place to protect consumers from illness and disease (and include standards like ISO 10993 and USP Class VI, which classify a material as biocompatible). Specifically designed to satisfy these criteria, ABS-M30i can be used for products that come into contact with food, skin and medications.
The main selling point of ABS-M30i is that it blends strength and sterilisation ability (another core consideration for products that come into contact with our bodies and anything we ingest). ABS M30i can be sterilised using either gamma radiation or ethylene oxide (Eta) sterilisation methods.
Advantages of ABSi for 3D Printing
The trump card of ABSi lies in its translucency. While this thermoplastic offers impressive mechanical properties, it's also notable for lighting applications – hence ABSi's widespread use for functional evaluation of lenses for items like automotive lighting. The popularity of ABSi for lens application is reflected by its available colour range (amber, red and natural). Not only that, but it's ideal for monitoring material flow in applications that process or transfer material in powder or bulk solid form.
Advantages of ASA for 3D Printing
Known as an all-round thermoplastic, ASA (acrylonitrile styrene acrylate) has better mechanical properties than ABS, plus one key difference (UV stability). ASA builds UV-stable parts that don't degrade after prolonged exposure to sunlight, while offering amongst the best aesthetics of any FDM thermoplastic.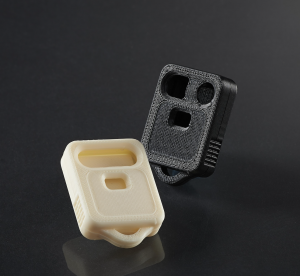 Operator-friendly and highly reliable, ASA is perfect for sporting goods, automotive components, outdoor functional prototyping and end-use parts for outdoor infrastructure and commercial use (electrical housings, for example). ASA's improved mechanical properties and aesthetics are ideal for general prototyping, too, while its ten colour finishes top any other FDM.
Advantages of Polycarbonate (PC) for 3D Printing
Polycarbonate (PC) is a commonly used industrial thermoplastic with benefits that include great mechanical properties and heat resistance. PC boasts the second-highest tensile strength of all FDM materials, along with high heat deflection temperature (280°F/138°C). Taken together, PC is a rugged material for tough applications like functional testing, tooling or production.
Advantages of PC-ABS for 3D Printing
Blending polycarbonate and ABS, PC-ABS offers the most desirable properties of both materials. Expect the competitive mechanical properties and heat resistance of PC (including one of the highest impact strength ratings across the entire range of FDM materials), paired to the impressive flexural strength, feature definition and surface appeal of ABS. As with all variants of ABS for FDM, PC-ABS offers a no-touch finishing option with soluble supports.
Advantages of PC-ISO for 3D Printing
Similarly to ABS-M30i, PC-ISO is a biocompatible (ISO 10993 and USP Class VI) material, renowned as an effective FDM alternative for the pharmaceutical, medical and food packaging industries. A second property shared by both materials is that each can be sterilised using gamma radiation or ethylene oxide (Eta) methods.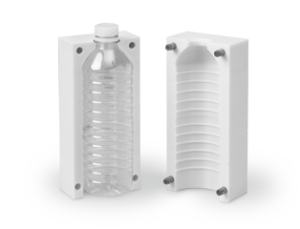 However, there are differences: PC-ISO is notable for an improved tensile and flexural strength, along with a higher heat deflection temperature (in these areas, its values are 33% to 59% higher than ABS-M30i).
Advantages of PLA for 3D Printing
PLA is a plastic material mostly composed of organic, renewable compounds (that's why it's known as a greener plastic option than inorganic plastics). It's an economical option for fast-draft part iterations, too, and sold in either translucent or opaque colours.
That's not all: PLA also boasts great tensile strength, higher stiffness compared to ABS, plus strength that is comparable to polycarbonate. Because of its lower melting point and HDT, less heat and power are required for modelling.
We often see PLA used effectively for rapid concept verification and design validation, but other common applications span from early concept modelling to fast-turnaround prototyping and metal part casting.
Advantages of ULTEM™ 9085 resin for 3D Printing*
Manufactured by SABIC Innovative Plastics US LLC, and commonly used in the aerospace sector, ULTEM™ 9085 resin is one of three high-performance engineered thermoplastic materials available for FDM. As an FST rated material, ULTEM™ 9085 resin satisfies flame, smoke and toxicity standards, and when used with one of the Fortus Stratasys 3D printers, these FST properties are unchanged. As such, it's often chosen by transportation companies to satisfy the sector's demanding requirements.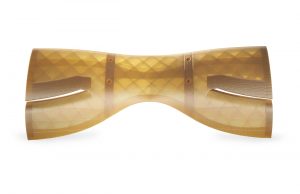 Also sold in certified grade, this option offers full production traceability to comply with stringent aerospace certification requirements. Even for applications that don't need FST rating, this material should be considered: with its strength, durability and resistance to chemicals and heat, ULTEM™ 9085 resin is unbeatably tough, offering standout thermal, mechanical and chemical qualities. No wonder that it's one of the FDM materials growing fastest in popularity.
Advantages of ULTEM™ 1010 resin for 3D Printing*
Also made by SABIC Innovative Plastics US LLC, ULTEM™ 1010 resin is a high-performance FDM thermoplastic with excellent strength and thermal stability. Offering the lowest coefficient of thermal expansion across the gamut of FDM materials, ULTEM™ 1010 resin is ideal for countless industrial tooling applications, plus other components that need strength and thermal stability in equal measure.
Not only that, but ULTEM™ 1010 resin's ability to withstand steam autoclaving, plus its food-contact (NSF 51) and bio-compatibility (ISO 10993) certifications, make this an ideal material for specialised applications ranging from food-production tools to bespoke medical equipment.
Equally important, ULTEM™ 1010 resin also delivers the highest heat/chemical resistance and tensile strength of any FDM thermoplastic. From automotive and aerospace applications to composite tooling, it's a convincing choice.
* 9085, 1010, and ULTEM™ are trademarks of SABIC, its affiliates or subsidiaries
Advantages of PPSF/PPSU for 3D Printing
Sometimes referred to as PPSU, PPSF is noted as the first high-performance engineered thermoplastic available for FDM: a trailblazing material added for under-the-hood and other advanced applications, where lesser plastics could suffer from heat and chemicals.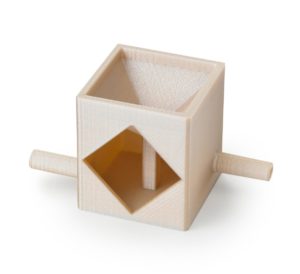 As such, PPSF boasts impressive heat resistance (372°F/189°C heat deflection temperature) and chemical resistance. It's mechanically superior to other FDM materials, too (bar high-performance ones), and is also chosen for its remarkable resistance to oils, chemicals, gases and acids.
Like ABSi and ABS-M30i, PPSF can be sterilised – but because of that same heat and chemical resistance, further sterilisation methods can also be used, including steam autoclave, chemical, plasma and radiation sterilisation.
Advantages of FDM Nylon 12 for 3D Printing
The original material in Stratasys' array of nylons, Nylon 12 is perfect for new applications needing repetitive snap fits, strong chemical resistance, high fatigue resistance and press (friction) fit inserts. A mainstay of the automotive, aerospace and consumer goods sectors, Nylon 12 has huge strength and a simple, clean process that is powder-free.
Additionally, FDM Nylon 12 parts exhibit 100% to 300% improved elongation at break and superior fatigue resistance over any other AM technology.
Advantages of FDM Nylon 12CF for 3D Printing
Blending Nylon 12 resin with chopped carbon fibre (at a loading of 35% by weight) this carbon-filled thermoplastic is noted for its structural properties. Thanks to this fusion, FDM Nylon 12CF stands amongst the very strongest thermoplastics (with the best flexural strength of any FDM thermoplastic, resulting in the highest stiffness-to-weight ratio).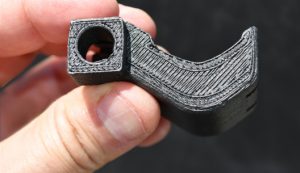 It's commonly chosen for strong but light tooling applications and functional prototypes for industrial, aerospace, automotive and recreational manufacturing, among others.
Advantages of FDM Nylon 6 for 3D Printing
Stronger and more durable than many competing thermoplastics, FDM Nylon 6 delivers for applications that require tough bespoke parts and tooling that survives intense functional testing. Engineered with Nylon 6, this material works with Stratasys 3D printers like the Fortus 900mc to form durable parts with clean finish and good break resistance. Because of this, FDM Nylon 6 is a trusted choice for product manufacturers and development engineers in aerospace, automotive, consumer goods and industrial manufacturing.
Advantages of FDM TPU 92A Elastomer for 3D Printing
Available on Stratasys 3D printers like the F123 series, FDM TPU 92A is a thermoplastic polyurethane that taps into the many benefits of elastomers. Most often – but not exclusively – manufacturers use it to rapidly prototype elastomer components, so avoiding the expense and delay of the casting and moulding process.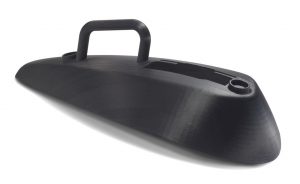 FDM TPU 92A not only has impressive flexibility and stretch, but also abrasion and tear resistance, unlocking countless potential uses that more rigid plastics cannot match. Common applications involve prototyping of flexible hoses, air ducts and seals, protection covers and vibration dampeners – hence this material's popularity in the transport industry. Just as useful, TPU 92A gives designers and engineers a simple means to rapidly produce large, complex and very accurate elastomer components.
Advantages of Antero 800NA for 3D Printing
Notable as the first Stratasys PEKK-based FDM thermoplastic – used with Stratasys 3D printers like the Fortus 450mc and F900mc – Antero 800NA has good mechanical properties including high strength and heat resistance, durability and resistance to wear. These qualities have made it a lighter and more practical alternative to traditional metals like steel and aluminium.
In particular, the aerospace sector has been drawn by this material's resistance to jet fuel, oil and hydraulic fluid (Antero 800NA aircraft parts installed in the same environment as these fluids won't break down, while remaining lightweight). Antero 800NA has very low offgassing properties, too, making it ideal for use in spacecraft (which demand materials with low emissivity to prevent contamination of optical instruments).
Don't forget to factor in the cost savings inherent with additive manufacturing, too. Machining PEKK-based parts creates waste – but FDM uses material only where it is needed. For a more expensive material like PEKK, this can equate to  considerable savings.
UK experts in 3D printing with thermoplastics and more
Tri-Tech 3D is a UK specialist in additive manufacturing, with experience across multiple industries, print technologies and materials – including thermoplastics but far beyond. To learn more about our range of Stratasys 3D printers and materials, or enquire about our 3D printer training, we're always available to chat on 01782 814551 or info@tritech3d.co.uk