The oil & gas sector is just one vital industry we supply with Stratasys 3D printers and specialist materials.
It's no wonder the oil and gas industry's biggest players are waking up to the benefits of AM. In a sector where countless highly specific parts are required, and supply chain delays can cost millions, the on-demand production of 3D printed parts ensures smooth operation.
Factor in the sector's stringent safety regulations – not to mention the harsh environments that parts will be subject to – and the ability to create bespoke components from materials that meet these standards is invaluable. Tri-Tech 3D is proud to have worked with some of the most forward-thinking businesses in the field, supplying everything from Stratasys 3D printers and specialist materials to advice and training.
Which Stratasys 3D printers are commonly used in the oil and gas sector?
At Tri-Tech 3D, we'll always start by talking to our oil and gas sector clients about their business and project-specific needs, before guiding them to the 3D printers that make sense. As a general rule, though, we find the Stratasys Fortus 3D printer range is an excellent starting point, with both the Fortus 900mc and Fortus 450mc offering speed, precision and reliability.
Which 3D printing materials are most often used in the oil and gas sector?
The environmental extremes of the oil and gas industry mean 3D printed parts must always be tough, but Tri-Tech 3D's experts can help direct our clients to materials with additional benefits. Manufactured by SABIC Innovative Plastics US LLC, ULTEM™ 1010 resin* is ideal for industrial tooling due to its stellar thermal stability. A blend of Nylon 12 resin with chopped carbon fibre, Nylon 12CF has best flexural strength of any FDM thermoplastic, while the strength and wear resistance of Antero 800NA and Antero 840CN03 makes these two materials a great alternative to traditional metals like aluminium and steel.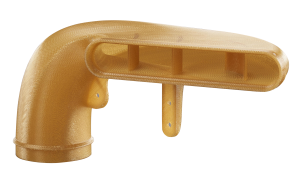 * 9085, 1010, and ULTEM™ are trademarks of SABIC, its affiliates or subsidiaries
Which applications is 3D printing used for in the oil and gas sector?
The sheer scope of Stratasys 3D printers and materials means additive manufacturing is widely used throughout the oil and gas industry, from the rapid prototyping that lets engineers assess a component's real-world performance to the final parts used on a busy drilling platform.
Just some of the potential applications include: turbo machinery, rotors, stators, mud motor modules, pressure gauge pieces, pump manifolds, flow meter parts, control valve components, direct part replacement, metal part replacement, greasing jigs, end of arm tooling (EOAT), masking tools, sand casting and cutting guides.