Stratasys large format 3D printer models – which is the best?
Choose a specialist printer from Stratasys's FDM range and you'll be ready to create parts that are large, complex and repeatable. Here's an introduction to the benefits that a large format 3D printer could bring to your business.
What is a large format 3D printer?
3D printers can be enviably compact, right down to the MakerBot Sketch Classroom model that sits discreetly on a desktop. But at the other end of the scale, what do you do when your business is required to produce standalone parts with prohibitive dimensions?
A large format 3D printer could be the solution. Thanks to generous chassis dimensions and extra-large build trays, Stratasys models like the Fortus 900mc and F770 make it easy to create physically large and highly complex parts.
Which industries use a large format 3D printer?
In many applications, each 3D printed part is just one element of a more complex product that could involve hundreds. But what about when a single standalone component must be printed in its entirety?
While helping clients across the gamut of UK industry, Tri-Tech 3D has seen large format 3D printers used to create everything from performance car components in the automotive sector to a fully functional aircraft windscreen housing, designed for use in the demanding environments of aerospace.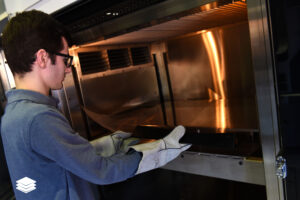 Parts such as these aren't just physically large, they're geometrically complex – but models such as the Fortus 900mc have the specialist features to deliver.
What are the advantages of the F770 large format 3D printer?
Renowned for reliable and repeatable production of larger parts, and regularly used for applications including fabrication, assembly, prototyping and production, the economical Stratasys F770 is one of the Tri-Tech 3D team's first recommendations when clients come to us for large format 3D printing.
The F770 not only boasts the longest fully heated build chamber on the market, enabling you to print parts with a length of 46" on the diagonal. This model also complements that hardware with a choice between GrabCAD Print Advanced FDM Software or the Insight package.
You'll also be surprised by the F770's intuitive operation. With material canisters that allow up to 140 hours of use, it's feasible for your team to leave this large format 3D printer working unattended (or else monitor its progress via the onboard camera and GrabCAD app).
What are the advantages of the Fortus 900mc large format 3D printer?
The fact that the Fortus 900mc is the go-to choice of the ultra-exacting aerospace and automotive industries bears witness to this large format 3D printer's incredible accuracy. In fact, you won't find a more precise FDM 3D printer on the market. When we talk about reliability for the MOST demanding applications – the Fortus 900 is the best suited for the job.
Having used the Fortus 900mc for rapid prototyping of ultra-detailed components,  GKN Aerospace fed back that "the prototype produced was so realistic and so accurate that the launch team was not only able to go ahead with the event but the feedback received confirmed that the 3D printed housing was almost indistinguishable from the real thing".
Relative to the F770, there's more flexibility when it comes to materials, too, making this printer perfect for everything from composite tooling to sacrificial layup tools. It represents more of an investment, but there's no question that the 900 is the flagship of large format 3D printers.
What are the material options for the F770?
With the Stratasys F770, you have a choice between two of the most globally popular Stratasys materials. Thanks to its superior tensile, impact and flexural strength, ABS-M30 is widely used for applications like conceptual modelling, functional prototyping, manufacturing tools and production parts. Often used in outdoor commercial and infrastructure settings, ASA lets you create repeatable high-quality components with notable UV stability and aesthetics.
What are the material options for the Fortus 900mc?
Due to the Fortus 900mc's unbeatable precision, this large format 3D printer can be used to print with a wide selection of the most demanding materials – and that's one of the key selling points that gives this model the edge over the F770.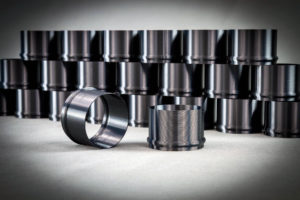 Almost no material is off limits here, letting users create made-to-measure parts ideally suited to highly specific environments. Choose between ABSi, ASA, Nylon 12, Nylon 12 CF, Ultem 1010, Ultem 9085, Antero 800NA, Antero 840CN03, ABS-ESD7, ABS-M30, Nylon 6, PC-ABS, PC-ISO, ABS-M30i, PPSF/PPSU and PC. You can read more about these materials here.
Ask Tri-Tech 3D about large format printers and all other aspects of AM
At Tri-Tech 3D, we're proud to be recognised as one of the UK's foremost authorities on 3D printing and related technologies. Our exhaustive range of 3D printers includes the latest models from leading brands like Stratasys and MakerBot – including the large format F770 and Fortus 900mc – plus all the software, materials, expertise and training to guide you to your AM goals.
The Tri-Tech 3D team is on hand to tell you more about our 3D printing solutions. Contact us on 01782 814551 or email info@tritech3d.co.uk