J750 Digital Anatomy Printer
The J750 Digital Anatomy Printer new to the Stratasys range in 2019 brings medical models to life with incredible realism that accurately represents both the appearance and response of human tissue. Whether for surgeon training or testing new medical devices, these models provide unmatched clinical versatility and reduce the costs and inconveniences of cadaver and animal labs.
With this J750 printer, it allows you to move your innovation forward that bit faster. Create lifelike in vivo environments in a range of pathologies for product testing and surgeon training. Validate and verify new devices to achieve their intended objectives, faster and within budget, to accelerate time to market and adoption of your new technology.
Integrate new technology into clinical practice sooner with the J750 DAP, giving physicians the opportunity to develop skills prior to entering the operating room, in a risk-free surgical setting on a range of pathologies. This lets your hospital use operating room time more efficiently, reducing cost and improving patient outcomes.
The J750 Digital Anatomy Printer takes PolyJet technology to the next level. Use its capabilities to create models with an incredible array of fine details and minute structures that look, feel and function like actual human tissue, with true haptic feedback. All this can be done in a single print operation with minimal to no finishing steps like panting, sanding or assembly.
View more info
Build Size: 490 x 390 x 200 mm
Software Compatibility: GrabCAD Print Digital Anatomy, including the optional add-on GrabCAD Voxel Print
Layer Thickness: Horizontal build layers down to 14 microns (0.00055 in)
System Size & Weight: 1400 x 1260 x 1100mm | 430kg
Operating Conditions: Temperature 18-25 oC (64-77oF); relative humidity 30-70% (non condensing)
Regulatory Compliance: CE, FCC, EAC
Children's Hospital Colorado
A hospital leader in pediatric heart care improves the lives of children with complex congenital heart disease with the help of patient-specific 3D printed models.
Leasing 3D Printers
Tri-Tech 3D provide direct rental contracts on our full range of 3D printers, which can include post processing equipment and extended warranty, making your investment into 3D printing both affordable and help plan your annual expenditure.
Funding in the most part, is provided by our sister company Stanford Marsh Finance(a division of the Stanford Marsh Group) or via our numerous strategic finance partners/brokers.
Rates are frequently checked to ensure competitiveness in the market place and you will find our terms highly attractive.  With options such as fixed term contracts, step rentals which make payments lower in the earlier years allowing time to grow the use from your new device.  Or deferred payment, enabling you to benefit from the technology ahead of when you start paying.
Why lease 3D Printers?..
Not only can leasing be financially beneficial to companies, but it can also give you the ability to remain ahead and current with technology. It also means your entry point to utilisation of a professional 3D printer is far more affordable than you may think – a professional 3D printer from as little as £299 per month, (including a wash system and 12-months support).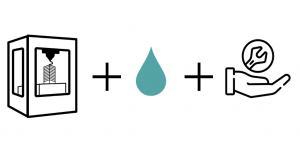 Furthermore, if like many companies today you are outsourcing 3D printing via a 3D Print Bureau, you are already spending an amount each month that when converted to a lease, could represents an in-house option at no extra cost (savings possibly).  Either talk to one of our team, or send us details of your average spend and we can help provide an ROI report.
In addition to our excellent rates, as an end user dealing directly with one vendor for finance, equipment and after sales care, your rental agreement will provide you with a future flexible upgrade path. We've enabled companies to acquire new technology prior to the completion of the minimum rental period, without the usual high termination figure charged by outside finance agencies.
All finance is subject to approval and none of the solutions detailed above are guaranteed to suit all scenarios. What we can promise however, is we will do our utmost to make the finance of your 3D Print solution as affordable and easy as possible.
If you are interested in further information, please contact us.
J750 Digital Anatomy Solution Brochure Downloads
New to 3D
Printing or looking
for some support?
Get in touch
Trade in
and trade up...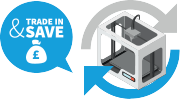 Your old 3D printer could be worth far more than you think!
Find out more