The fashion sector is an industry that relies on Stratasys 3D printers and bespoke materials.
Fashion might be one of the world's oldest industries, but its decision-makers have moved with the times in their adoption of additive manufacturing. From garments to footwear and accessories, the possibilities of 3D printed fashion are almost endless and the benefits far-reaching, with designers now able to select the ideal combination of printer and materials to allow super-intricate patterns, unprecedented textures and blends for any extreme of weather.
Add to that, the environmental benefits of 3D printing – cutting waste from textiles, for example, while reducing the need for shipping – and it's no wonder the fashion sector and AM are growing closer by the day, with Tri-Tech proud to supply Stratasys 3D printers, specialist materials and more.
Which Stratasys 3D printers are commonly used in the fashion sector?
Tri-Tech 3D takes an individual approach and we'll always discuss the specific needs of our fashion sector clients before shortlisting the optimal 3D printers. As a starting point, however, it's certainly worth investigating the Stratasys J850 Prime 3D printer, which allows designers to create full-colour models in 20% of the time taken by other printers, allowing easy design adjustments and faster time-to-market. The J850 Prime offers 600,000 PANTONE® validated colour combinations, and is even more effective with Colour-Material-Finish (CMF) capabilities extended with the FabriX™ Innovation Kit.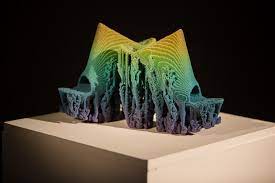 Which 3D printing materials are most often used in the fashion sector?
Materials have always been the lifeblood of the fashion industry, and the long and growing list of man-made products for use with AM have opened up a world of possibilities for ambitious designers. While there almost no limits, Tri-Tech 3D's work in the fashion sector has seen our clients repeatedly specify digital materials, benefiting from 600,000-plus colours and Pantone-validated palettes, along with translucent colour tints and flexible tactile materials. Some of the most popular materials used in the sector include the PolyJet photopolymer Agilus30 (known for its tensile tear resistance), VeroUltraClear's simulation of acrylic and VeroVivid's scope for over half a million colours.
Which applications is 3D printing used for in the fashion industry?
Tri-Tech 3D has seen the Stratasys 3D printers and materials we supply used for applications throughout the fashion industry, and we're expecting to that growing AM usage become even more eclectic. While top designers like Danit Peleg are pushing the boundaries with their use of AM for unique haute couture, more everyday applications for 3D printed items in the sector include name tags on uniforms, seamless cushioning on textiles, buttons integrated in textiles, reflective elements, wearable technology and netting.