Find out about Stratasys latest FDM elastomer material - TPU 92A
Stratasys latest FDM material release introduces new possibilities to the manufacturing sector with TPU 92A. TPU is a thermoplastic polyurethane elastomer which combines durability with flexibility, enabling users to quickly turn around large and complex parts in a cost effective way. Here's all you need to know on Stratasys latest FDM material…
What is it?
TPU 92A is a resilient thermoplastic polyurethane combining flexibility and stretch with abrasion and tear resistance. TPU 92A is an ideal replacement for applications which would traditionally use polymers as it provides a far greater level of resilience. It can be stretched or compressed and still won't lose its shape.
With the new Stratasys TPU 92A, it allows you to create geometries that are not possible with conventional manufacturing and other AM options. It allows you to get larger elastomer parts in your hands within a matter of days vs weeks which is the current timeline for tooling and moulding operations.
The material currently comes in black, with plans to release a natural semi-translucent colour in the near future. TPU 92A currently comes  in 0.25mm slice, and will also be available in 0.18mm in the near future.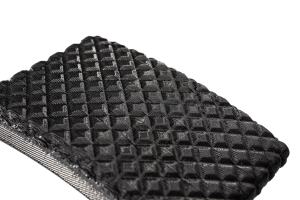 What hardware do I need?
TPU 92A is available on the F370, F170 and F270, however you will need to order an extra extruder head if using the material on the F170 or F270.
The kit is easy to install and can be done on-site by the customer so there's no need to call out an engineer unless another extruder head is needed.
What applications is it for?
Common TPU 92A applications:
Seals
Gap fillers
Bands
Bumpers
Gaskets & flexible hoses
Paint masks
Console liners & cup holders
Tubes & Air ducts
Door trim seals
Parts requiring living hinges
Benefits of prototyping with Elastomer TPU 92A
Complex Designs – with the elastomer TPU you are able to create complex geometries that are simply just not achievable with other additive manufacturing methods
Ease of use– the TPU 92A is available on the F Series range of Stratasys printers, which boast an 'easy to use' workflow with user-friendly software
Quick turnaround – get your elastomer parts in your hands within a matter of days, rather than waiting weeks
Reliability – TPU 92A is a highly functional and reliable elastomer that can produce very complex and accurate parts
Support materials
TPU 29A is available with hands free soluble support, decreasing labour time by up to 76%!
TPU 92A is now available to order! For more information on Stratasys latest FDM material, contact our team. Alternatively, speak to your sales rep about our benchmark service.