Discover our material of the month - Agilus30
This month, the focus is on Agilus30 as we explore what it's used for and how it's pushed the boundaries of PolyJet printing.
With superior tear-resistance and a high tensile strength, Stratasys's Agilus30 Photopolymer material is ideal for rapid prototyping and design verification. Simulating the look, feel and function of rubber-like products, this material enables precise prototypes that set the standard for finished-product realism. As the more superior material to its counterparts – Tango, Tango Plus and Tango Black, Agilus30's improved tear resistance has meant that 3D printing can now be used for a wider range of applications.
Whilst most popular for design verification and prototyping applications, Agilus30 has also proved to be incredibly valuable to the medical industry too and whilst we're usually talking about successes on the factory floor, Agilus30 gives us a chance to talk about some of the more personable research and successes this material has enabled.
Why do we love Agilus30?
The addition of Agilus30 to the PolyJet range of Stratasys materials was an exciting time for our team as we were able to offer a more reliable solution to our customers. Whilst Tango is still a highly popular and cost-effective material, the addition of Agilus30 meant that those customers who were using their models in high stress environments such as the automotive industry, are able to rely on their part to simulate the real material as much as possible in order to provide accurate results during form and function tests.
The addition of Agilus30 greatly improved tear resistance, raising from 2-4kg/cm to 5-7kg/cm, as well as increasing tensile strength to three times more than that of Tango Black Plus. This means that Agilus30 is able to stand up to the toughest of industrialised uses and is less likely to tear, break or wear down over time.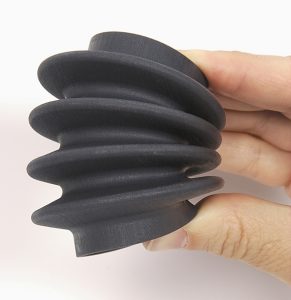 In addition, this material comes in clear, black and white, but can be combined with any specific RGB value to provide the exact desired outcome. In conjunction with the J750, Agilus30 can be blended with a range of Pantone colours to provide highly realistic and multi-colour, multi-material designs where the colours blend seamlessly from one to another. The addition of Voxel Print and Pantone technologies in conjunction with this material has meant that there are now a huge range of applications for 3D printing which simply weren't possible before.
Moving away from the production side of Agilus30's uses, this material has also enabled some incredible developments within the medical field. Whilst 3D printing enables healthcare professionals to produce a range of models and patient specific replicas for visualisations purposes, Agilus30 has enabled surgeons and technicians to facilitate comparative analysis of medical device tools. The most popular examples include training junior surgeons to retrieve a blood clot from inside the vessels in a person's brain, improving the success of surgeries that are carried out on real life patients. In this case, Agilus30 is able to replicate the strength of the vessel walls, as well as being much easier to clean and maintain. To find out more about more about the use of Agulis30 within the medical field, check out the following resource.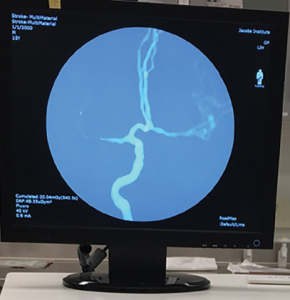 What are Agilus30's star qualities?
High Tensile Strength – Ideal for design validation and rapid prototyping, Agilus30 is incredibly durable and capable of withstanding repeated flexing and bending. It also has a Shore A value of 30 in clear of black.
Ease of Post Processing – Agilus30 is compatible with support materials SUP705 and SUP706B, the first being easily removed via water-jetting and the second being soluble in a post-processing tank.
Realistic Finish Quality – As the best material in the PolyJet range to most closely simulate rubber, Agilus30 covers a huge variety of applications and provides a highly accurate and life-like finish. Combine this with the use of Voxel Print and Pantone colours and we're pretty sure you wouldn't be able to tell the difference between the prototype and the real thing!
Huge Variety of Applications – As one of the most durable materials in the PolyJet range, Agilus30 provides the strength and reliability needed for functional testing and prototyping, whilst being incredibly flexible in terms of design requirements. Create any combination of colours as you desire, and you can even combine it with rigid materials to produce a realistic multi material part. The possibilities are fantastic.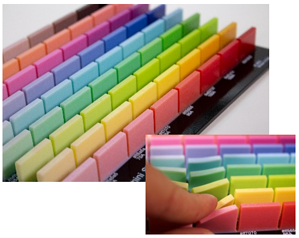 Top Applications of Agilus30
Medical Models
Tooling needing rubber-like characteristics
Consumer Goods
Sporting Goods
General Prototyping
Overmolding
What are people saying about it?
The mission of the Jacobs Institute (JI), located on the Buffalo Niagara Medical Campus in Buffalo, New York, invested in the Agilus30 material for use on their PolyJet system in order to overcome some of the obstacles faced with prior materials when carrying out analysis of medical device tools. Here's what they had to say about…
 "Agilus30 allows us to simulate a range of patient disease states, such as plaque buildup, that were not possible with past materials. Its increased robustness also allows us to print smaller vessels so we can simulate procedures in the more distal cerebral anatomy. Finally, devices behave more realistically in the Agilus models than in models made of other materials."

– Dr. Adnan Siddiqui, The Jacobs Institute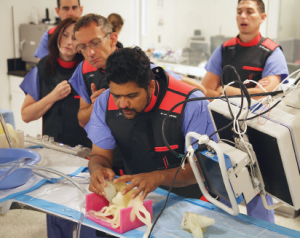 For more information on our material of the month or to request a free sample, contact our team on 01782 814551 or email info@tritech3d.co.uk. Interested in receiving our material of the month newsletter? Email us with the subject line 'sign me up to material of the month' !