Accelerating Design Realism with new Pantone validation: FAQ's
The Pantone Matching System, also known as PMS is the most widely used colour standard in the world – and now they are partnering with Stratasys! This fantastic new development was released to the public at AMUG 2019 (Additive Manufacturing User Group) and since then has been the topic of conversation in lots of press articles around the internet. It's not just the media picking up on this exciting new development, but also our customers. There are lots of questions that are yet to be answered, so we got our technical team together to help answer some of them for you….
Why is Pantone important and what does this mean for me?
This new validation enables Stratasys users to have access to thousands of printable and globally-recognised Pantone colours, ensuring all contributors to the design process are speaking the same language, thus potentially reducing iterations, reducing design cost and speed up time-to-market.
This development is currently only available on the Stratasys J750 and J735.
Hadas Schragenheim, Rapid Prototyping Manager at Stratasys commented:
Designers work hard to build realistic prototypes in ways that speed design, build and development cycles. Unfortunately, typical approaches of manually panting each and every model is time consuming
I've already got a J750/35 how do I access this new development?
You can do this through the new GrabCAD print update (version 1.28 and above), which will allow you to assign and apply colours to 3D printed models by browsing the relevant Pantone book.
Please note: you can only print in high mix and high quality (high speed is not supported)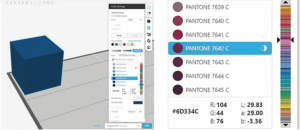 What CAD files can I print in?
Currently only STL files are supported, not VRML.
Of the complete Pantone colour swatch, how many colours can you actually accurately match?
The printed colours are a simulation of the Pantone colours. Some are more accurate than others and the matching depends on many factors (for example: your maintenance, temperature, what you compare to and more – you can see variations between Pantone's own materials as well) and hence cannot be calculated in advance. Stratasys are working all the time to improve the match for all colours for all printing circumstances. The best indicator is the sign next to the Pantone – this will be the most up to date indication. To know the exact match of a specific colour the best way is to print and compare to the desired colour.
What model materials is Pantone available with?
The current model materials that are supported by Pantone are: VeroVivid materials (Vivid Cyan, Vero Cyan, Vivid Magenta, Vero Magenta, Vivid Yellow and Vero Yellow), Vero PureWhite, Vero BlackPlus.
Are there plans to further add to the colours, so a wider gamut can be expected downstream?
The only real way to expand the colours that you can match is to add an additional base colour like Green, Orange, Purple, Silver etc. Currently there is no plans to add more colours. With that said, the possible match with the current CMYKW is on an on-going basis improving.
Adding PANTONE verification to a 3D printer that can already print over 500,000 different colours is certainly a game changer and creates an unparalleled workflow for matching design creativity with colour accuracy. Stratasys have well and truly raised the bar, and as a company who not only sell these systems but are extremely passionate about their capabilities, Tri-Tech 3D are excited to see the developments moving forward.
Keep an eye out on our training website, for any hints or tips our technical team will be posting out to help guide you when 3D printing with Pantone on your J750/35.