Discover the latest Stratasys material releases in the FDM range
With a wide variety of materials available and a strong reputation for being a market leader in 3D print hardware and consumables, Stratasys are already highly successful within the Manufacturing, Automotive and Aerospace industries. However, with the recent release of 3 brand new materials, they're set to further secure business within these markets.
Maintaining a focus on developing the current FDM range, these all new materials deliver improved performance, more capabilities and improved functionality in challenging or highly regulated environments. Check out the new additions to the FDM range below…
Antero 840CN03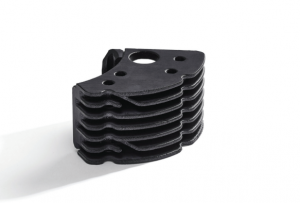 Adding to the Antero family, Antero 840CNO3 is a high performance FDM filament that's based on Kepstan Pekk. Designed for harsh and highly regulated environments, this new material leverages a strategic supplier relationship with Arkema, adding static disipative capabilities to Antero's already impressive array of physical and mechanical attributes.
What are Antero 840CN03's star qualities?
Unmatched strength and chemical resistance
Low outgassing properties
Great for static sensitive applications
Performance has been validated over several years by Stratasys
Lighter weight alternative to metal
Best in Class Properties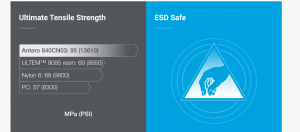 Applications
Hatch covers
Tools in the production of electronic components
Functional prototypes for high-demand applications
ESD safe jigs and fixtures for testing and assembly
Low-volume and end-use parts for high requirements.
What printer can it be used on?
This new material can be used on the F900.
View the data sheet for Antero 840CN03
Diran 410MF07

Diran 410MF07 is a Nylon based material, delivering the strength and toughness required for manufacturing environments. However, unlike other FDM materials, Diran 410MF07 has a smooth, lubricated feel that results in very low surface friction; a valuable feature in cases where movement between parts is desired. In addition, the material's resistance to hydrocarbon chemicals means that it's ideal for harsh factory floor environments.
What are Diran 410MF07's Star Qualities?
Its slick surface offers low sliding resistance against other tools or parts
An ideal option for tooling applications, since the thermoplastic can withstand a tough shop environment
Best in class Properties
Applications
Tooling – Jigs, fixtures and end of arm tooling
Prototyping – Smooth surface finishing for prototypes
Production Parts – Low-volume production and highly customised pats
What printer can it be used on?
This new material can be used on the F370.
View the data sheet for Diran 410MF07
ABS – ESD7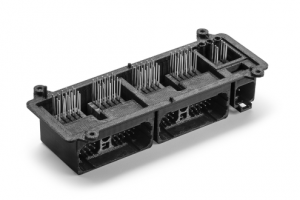 ABS-ESD7 provides all the benefits of ABS including high impact resistance and flexural strength, however it now comes with static dissipative properties for applications where a static charge can damage products, impair their performance, or cause an explosion in a flammable environment.
What are ABS-ESD7's Star Qualities?
Leverage the versatility of ABS, with the reliability of FDM for lower cost and faster production
Security of ESD protection
Ideal for flammable environments
Best in Class Properties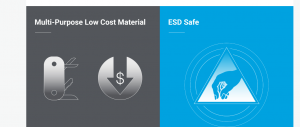 Applications
Prototyping – functional prototypes for electronic testing
Tooling – Jigs and Fixtures for electronic component assembly
Production Parts – Low-volume parts for industrial equipment and electronics
What printer can it be used on?
This new material can be used on the F900, Fortus 450mc, Fortus 380mc and F370.
View the data sheet for ABS-ESD7
So there you have our 3 brand new Stratasys FDM materials, now available from Tri-Tech 3D. For more information, get in touch with our team on 01782 814551 or email sales@tritech3d.co.uk.
Did you know we have a Material of the Month Newsletter? To sign up, email info@tritech3d.co.uk with the subject 'Sign me up to material of the month!'.