Tri-Tech to exhibit at UK's first virtual exhibition for manufacturing
In response to the global Covid-19 crisis, Made in Group were forced to cancel their annual manufacturing exhibition and will now hold the industry's first virtual exhibition of its kind. Beginning on August 17th, this will be a 2 week long "Digital Business Festival", featuring over 30 events and aiming to feature 5,000 delegates.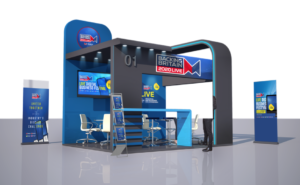 Backing Britain Live 2020 is being organised by the Made in Group which has two strong networks in the Midlands and Yorkshire, its aim to keep industry connected and help manufacturers collaborate, share best practice and promote British manufacturing. This will include: Webinars, Conferencing, Round Table Discussions, Networking, Virtual Expo Hall, Digital Mastermind Groups and a Physical Goodie Bag.
Tri-Tech 3D Director, Adrian Painter commented:
It's important to have a strong national supply chain so that we can deal with the crisis we have just seen, any event that aims to secure localisation of supply chains can only be a good thing. Our business is based in Stoke-on-Trent, and we have a talented workforce and unrivalled quality, its time we show how good we are.
We are proud and excited to be exhibiting at such an iconic moment in modern industry history and be at the forefront of technological innovation. It is the time for the industry to not only stand up and be counted but to ultimately embrace change and be enthusiastic in the face of new ways of working, such as virtual networking.
Date: 17th August running for 2 weeks
Link to register for your tickets: Tickets