A roundup of the events of TCT 2018
Another year of TCT has been and gone and we can't believe how fast time has flown by!
This year's TCT show was as usual a great success for our team and we had a brilliant time showcasing our latest models and case studies, providing demonstrations, and chatting to customers old and new over the course of the 3 days. There's something unique about the atmosphere of the TCT show which brings a buzz of excitement; perhaps it's the curiosity of the visitors who are eager to find out more about our 3D print technology, or the anticipation of new technologies and industry achievements which are unveiled at the show. Whatever it is, we certainly got caught up in it.
Here's our roundup of TCT 2018…
This year we were lucky enough to grab front and centre stage with our stand at the entrance of the hall. We'd like to say a big thanks to Desktop Metal for partnering with us on our stand design; together with our portfolio of Stratasys technology, the Desktop Metal solutions and the 3D Print Bureau's services, we were able to offer a strong collection of additive manufacturing resources. Our collaborative efforts with the Desktop Metal team seemed to attract a great amount of attention to the stand and our 3D print teams were inundated with enquiries and leads for both Stratasys FDM/PolyJet technology and the DM Studio + System.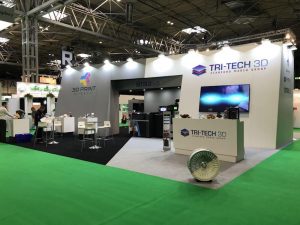 An increase in interest for metal 3D print…
The hype around metal 3D printing this year was really encouraging and we're beginning to see the technology being taken up more and more within the manufacturing industry. In light of this, we'd like to congratulate Professor Ely Sachs, co-founder of Desktop Metal and inventor of Binder Jet Printing, for making it into the 2018 TCT Hall of Fame.  Sachs was awarded a prestigious place for his contributions to the industry in which he coined the very term '3D printing'. For more info on this, head over to the official Desktop Metal press release.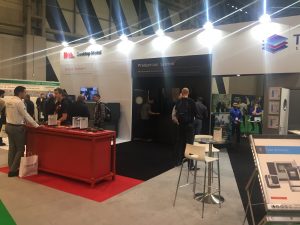 One of our observations from this year's show was that there seemed to be fewer exhibitors, but a greater focus on high quality additive technologies and a lot more high quality leads. This could be down to the increased awareness of additive technologies over the last year and a greater understanding of its applications which attracted a more committed crowd. Nether the less, our team had many interesting conversations with a variety of people from heads of university research departments, to specialist engineers and manufacturing firms, directors of design companies and many other professionals from Europe and beyond.
Our Marketing Manager, Catherine Aspinall commented –
"TCT 2018 was on another level. I felt like the footfall had increased, as well as visitor's knowledge on Additive Manufacturing. We were getting challenged for new applications and visitors clearly had an appreciation for the benefits of 3D printing. It was great to be around such a positive vibe over those 3 days."
Our big announcement…
For those who visited us, or those who are following us on social media, you'll be aware that we had some exciting news to reveal last week, the launch of our new division – The 3D Print Academy! Throughout the show, some of our Stratasys certified trainers were walking around, chatting to visitors and raising awareness of our new offering. We received some really positive interest throughout the 3 days and are looking forward to continuing some of those conversations in further detail in the coming weeks.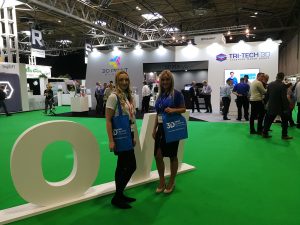 Competition winners…
We have also now announced the winners of our competition to win £150 worth of Bureau credit or a MakerBot Replicator Mini. If you entered the competition, make sure you check our social media and claim your prize if you've been lucky!
Overall, our team thoroughly enjoyed exhibiting for another year at TCT and have again made some great new connections from the event. Thank you to everyone who visited our stand and took the time to chat with our team, we will be in touch with you shortly if you submitted a lead. We'd also like to thank our suppliers and partners for contributing to the success of the event, we look forward to working with you again next year.
See you at Advanced Engineering?
Our next exhibition is Advanced Engineering at the Ricoh Arena! If you're interested in visiting, register for tickets now.