Desktop Metal Studio System+ 3D Printer
The office-friendly metal 3D Printer enables you to iterate faster by printing highly complex metal parts without leaving the office. The Studio system+ is the only end-to-end metal 3D printing system that is cost-effective for engineering groups.
Lasers and powders are completely eliminated to make the Studio system+ safe for any facility. Unlike other metal 3D printing systems, there is no 3rd party equipment or special facilities required – just power and an internet connection.
The Desktop Metal Studio system+ uses Bound Metal Deposition (BMD) a process which is similar to the safest, most widely used 3D Printing technology – FDM (Fused Deposition Modeling). The Studio+ printer printers works by extruding bound metal rods- similar to FDM.
Designed for after 3D Printing your part, Desktop Metal have designed a microwave-enhanced sintering furnace. It is fully automated incorporating closed loop thermal control and compactly sized to fit through an office door. The furnace itself combines conventional heating elements with high-powered microwaves to sinter printed parts, after primary binder is removed. The furnace then heats the part to temperatures near melting, causing the metal powder to densify.
Full turnkey Desktop Metal printing solution:
Studio+ 3D printer
Debinder Unit
Furnace
Import Duty, Delivery, Installation and Training
Materials Consumable pack ( Optional )
Service Consumable pack (Optional )
New features on the Studio System+ include:
Higher Resolution Printing: A new swappable 250μm printhead with supporting software profiles enables new geometries and applications—achieving smaller parts and fine features with an improved surface finish.
In-built Camera: Watch a live stream of your build with the in-chamber build plate camera captures video of the part as it prints — viewable in a web browser. This gives the user greater insight into their print and the ability to monitor print success.
Stackable Shelving: New stackable shelving increases part capacity of the debinder and furnace for greater throughput. Increased workload volume addresses bottlenecks typical at the debind and sinter stages.
Gas Connections: External gas connections give the option to reduce the cost of consumables and achieve a lower cost-per-part.
View more info
PRINTER
Build Volume: 12,585 cm3 (768 in3) / 30.5 x 20.5 x 20.5 cm (12 x 8 x 8 in)
Minimum Layer Height: 50 μm
External Dimensions: 95 x 83 x 53 cm
Weight: 97 kg (214 lbs)
Power: 100-120 VAC, 50/60 Hz, 15 A, 1-phase
DEBINDER
Solvent: Desktop Metal's proprietary debind fluid
Max Fluid Volume: Process tank: 17.4 liters (4.6 gallons) Storage tank: 22.5 liters (5.94 gallons)
External Dimensions: 102 x 74 x 57 cm
Height In Open Position: 160cm
Weight: 150 kg (330 lbs) without fluid
Power: 100-120 VAC, 50/60 Hz, 20 A, 1-phase | NEMA 5-20 plug
FURNACE
Peak Temperature: 1400 °C (2552 °F)
Workload Volume: 12,585 cm3 (30.5 x 20.5 x 20.5) / 768 in3 (12 x 8 x 8)
Gas Connection: RFID-enabled, 900 L onboard canisters (x2) | External gas connection
Gas Types: Forming gas, nitrogen, (material dependent)
External Dimensions: 161.8 x 138.0 x 75.4 cm
Height In Open Position: 216cm
Weight: 798 kg
Power: 208 VAC, 60 Hz, 30 A, 3-phase dedicated circuit | NEMA L15-30 plug (4-wire connection)
Stainless Steel

Also known as Inox Steel is a steel alloy with a minimum of 10.5% chromium content by mass

Read More

Tool Steel

Range of carbon & alloy steels particularly well suited to being made in to tools

Read More

Copper

Malleable & ductile material with high thermal & electrical conductivity

Read More
Currently there are no case studies assigned. You can view our full range of case studies here.
Leasing 3D Printers
Tri-Tech 3D provide direct rental contracts on our full range of 3D printers, which can include post processing equipment and extended warranty, making your investment into 3D printing both affordable and help plan your annual expenditure.
Funding in the most part, is provided by our sister company Stanford Marsh Finance (a division of the Stanford Marsh Group) or via our numerous strategic finance partners/brokers.
Rates are frequently checked to ensure competitiveness in the market place and you will find our terms highly attractive.  With options such as fixed term contracts, step rentals which make payments lower in the earlier years allowing time to grow the use from your new device.  Or deferred payment, enabling you to benefit from the technology ahead of when you start paying.
Why lease 3D Printers?..
Not only can leasing be financially beneficial to companies, but it can also give you the ability to remain ahead and current with technology. It also means your entry point to utilisation of a professional 3D printer is far more affordable than you may think – a professional 3D printer from as little as £299 per month, (including a wash system and 12-months support).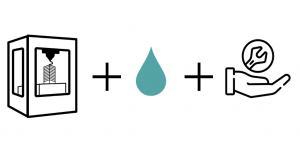 Furthermore, if like many companies today you are outsourcing 3D printing via a 3D Print Bureau, you are already spending an amount each month that when converted to a lease, could represents an in-house option at no extra cost (savings possibly).  Either talk to one of our team, or send us details of your average spend and we can help provide an ROI report.
In addition to our excellent rates, as an end user dealing directly with one vendor for finance, equipment and after sales care, your rental agreement will provide you with a future flexible upgrade path. We've enabled companies to acquire new technology prior to the completion of the minimum rental period, without the usual high termination figure charged by outside finance agencies.
All finance is subject to approval and none of the solutions detailed above are guaranteed to suit all scenarios. What we can promise however, is we will do our utmost to make the finance of your 3D Print solution as affordable and easy as possible.
If you are interested in further information, please contact us.
Studio System+ Brochure Downloads
New to 3D
Printing or looking
for some support?
Get in touch
Trade in
and trade up...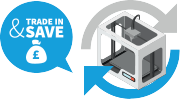 Your old 3D printer could be worth far more than you think!
Find out more
Why do companies buy a 3D Printer?
That's a good question and asking it today we think has changed significantly from had it been posed 15-years or so ago. Traditionally a 3D Printer provided solutions to Rapid Prototyping, a functional model to prove fit, form & function, or to convey a design intent to a client (better than a 2D drawing, or even rendered 3D imagery).
And when that was the end requirement, the focus was more on choosing a manufacture who built reliable devices that print right first time and in the professional sector, where repeatable accuracy could be achieved.
Why do people buy from Tri-Tech 3D?
We could say we are a well-established company, part of a larger group, with years of industry experience, six UK locations and our own finance company. All of which is true, but also sounds familiar to what the others may say and in some cases, a "so what".
Why we think our customers buy from Tri-Tech 3D and not just once, is we are a 'customer centric' business who treat people how we like to be dealt with ourselves. We want to know what you will get out of a system investment, we want to help drive that adoption and we want to see customers being successful.