A guide to which brand is best for your business
In today's market, there's a huge variety of 3D printers available to those interested in acquiring the technology. From entry-range enthusiast and hobbyist printers designed to be tinkered with in your own home, to professional production machines capable of replacing certain manufacturing methods; there's something available for everyone's specification and budget.
For most people looking to acquire a 3D printer, the first thing you usually do is google it, right? It's the first step in your research into what type of printer you need, what sort of budget you need to raise and where you're going to purchase the printer from. However, this is usually the first step to a confused and misguided consumer. You're going to find a lot of results as there's a huge range of models, re-sellers and buying channels to choose from. Whilst Amazon might provide a quick fix, do you really know what you're getting?
As a professional 3D print re-seller and partner of Stratasys and Desktop Metal, the Tri-Tech 3D team is made up of experts who can guide you through the confusion of purchasing a 3D printer. In this blog post, we're going to be discussing some of the lower-end 3D printers available on the market in comparison to our Stratasys offerings so that you can make an informed and well researched decision when making the investment.
Stratasys UPrint SE
AS one of our lowest cost models in the Stratasys range, the UPrint SE is the perfect budget friendly solution for small teams who need to test the form, fit and function of their product. With this model, you are able to create reliable and repeatable functional prototypes in ABS Plus for parts that are much more durable than those created using wax, photopolymers or similar technologies.
When we went to perform the Eiffel Tower test on the UPrint SE, we found that the model was too large to print in an upright orientation, however it was possible to print it in the orientation displayed below. The outcome of this print would have been similar to that of the F Series, although it would take a little longer to print on this axis.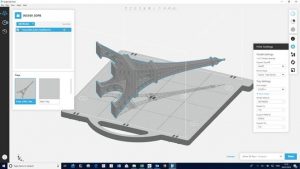 The main Benefits
Choose from a wide range of colours including Ivory, white, blue, fluorescent yellow, red, nectarine, olive green and grey.
Creates highly accurate and repeatable models that are durable, stable and realistic.
One/two material bay options
Budget friendly for small teams and restricted budgets
One of the most reliable options at this price range
The Downfalls
Comes with a large wash tank which can be unsightly in the office
Larger than other desktop units, although we've got you covered with our exclusive stand for the unit
More info on technical specification here
Ultimaker 2+
The Ultimaker 2+ is a multi-functional hobbyist and enthusiast desktop printer which is ideal for those looking to create reliable parts without complexity. Noted as a plug and play system, the Ultimaker 2+ can be operated with minimal setup, although the upkeep of the machine can be time consuming. However, for those not working to a strict deadline or with a heavy workload, this model is ideal for producing repeatable prototypes in a variety of FDM materials including PLA, ABS, CPE, CPE+, Nylon, TPU 95A and PP.
Here's the results of the Eiffel Tower test…
The image shows that whilst the grey Eiffel Tower which was printed in PLA came out quite well, however the ABS version failed.
The main benefits
Great for those new to 3D printing with simple set up
Accepts third party filament (although voids warranty)
Supports open source hardware and software
The downfalls
Bad odours reported when printing in ABS
No auto-calibration
No closed build-chamber so prints are sensitive to changes in the atmosphere
Sometimes difficult to remove finished objects from the print bed as it's not heated
Stratasys F123 Series
The Stratasys F123 series is a mid- range professional offering that's easy to operate and maintain. Ideal for prototyping, concept validation and some end-user parts, the F123 series works with GrabCAD software for easy importation of most common CAD file formats, enabling rapid iteration of parts straight from the drawing board.
What's more, with a closed build chamber, the F Series creates highly accurate and reliable parts with minimum noise output, making it ideal for the office. Not an expert? No problem. With auto-calibration and minimal setup the F series can be used by your entire design team with the choice of engineering grade materials, or a budget friendly PLA option. Most importantly, the F123 series is reliable, enabling a rapid project turnaround, and with fast and easy material swaps, and you'll benefit from 2 x the throughput meaning minimal downtime for your team.
As can be seen from the Eiffel Tower test, the Stratasys F370 was able to handle the complex geometries of the print and it came out rather well. This model was printed in ABS, using QSR support material for easy and hands free removal.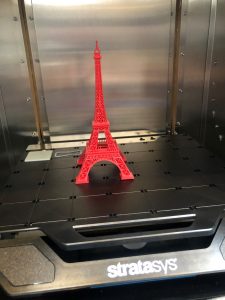 The main benefits
Produces high quality, durable and functional parts that are repeatable
Heated build chamber for added reliability and ease of removal once the print is finished
Uses soluble supports so not restricted on geometry
Works with GrabCAD so it opens native CAD formats easily
The downfalls
Can be expensive to invest in at first, although Tri-Tech 3D offer competitive finance options as well as a leasing option too
The machine itself is around the size of a vending machine, with space required for a wash tank too so may be challenging to fit in a small office.
More info on technical specification here
MakerBot Replicator Plus
The MakerBot Replicator Plus has vastly improved since the original model and has gone through over 38,000 hours of vigorous testing. Ideal for testing out concept designs and rapid prototyping, this model features an LCD display, a smart extruder head, and is great at producing small and smooth details.
Ideal for small teams, the MakerBot Replicator Plus is one of the fastest in its range and can stand up to heavy use whilst producing good quality prints at an impressive speed. It's also well suited to a small office environment with USB, Wi-Fi and Ethernet connectivity, and less than 20 minutes set up time. Whilst these qualities make it an ideal machine for quickly transforming an idea into a model, parts are not as accurate as those produced on a Stratasys system and can lack reliability and repeat-ability. This means it's great for teams who need to quickly produce a concept model but may not be the best purchase if fine details and repeat-ability are essential to your project.
Here's the results of the Eiffel Tower test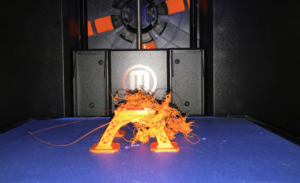 In the first test using 0.5mm layers, the printer couldn't handle the complex geometry and fine details of the print as can be seen above.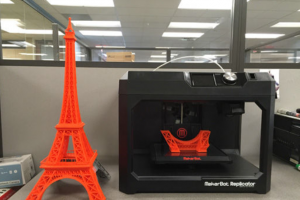 However, in the second test, a larger model size was used to print the Eiffel Tower in three stages. This print was a success.
The main benefits
Stands up to heavy use
One of the fastest in its range
Very quick set up and easy user interface
The downfalls
Has an open build chamber which reduces reliability and repeat-ability
Models have been known to get stuck on the print bed frequently
The extruder head is costly to replace
Only PLA is available through MakerBot. Other third party materials can be used but will void warranty.
More info on technical specification
More info on technical specification here
XYZ Da Vinci
The XYZ Da Vinci 1.0 is a 3D printer which uses Fused Filament Fabrication (FFF), similar to that of Stratasys FDM technology. Whilst marketed  by the company as a professional grade 3D printer, suitable for designers, engineers, architects and more, the XYZ Da Vinci has been described in frequents reviews across the web as not up to professional standards.
Here's how it stood up to the Eiffel Tower test…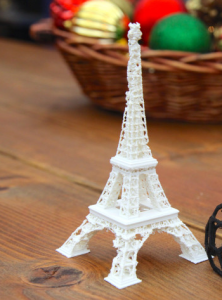 Whilst it does have an enclosed build chamber, auto-coding filament mechanism, and heated print bed reducing the likelihood of objects warping, it has been reported that the XYZ Da Vinci 3D printer struggles to cope with complex builds and fine details. Results have shown a generally poor surface finish and uneven wall thickness on models which means it probably isn't the best choice for professional use. That said, the XYZ Da Vinci is budget friendly, easy to use with plug and play usability, and can be used with PLA and ABS materials making it an ideal option for hobbyists, 3D print enthusiasts and those who are willing to put in a bit of maintenance work. Here's a summary of the pros and cons below…
The main benefits
Closed build chamber for increased accuracy/quality
Easy to use / plug and play
Heated print bed
The print head can be switched for a laser engraver which is able to emboss objects (great for personalisation)
The downfalls
There is a non-removable glass print bed which models usually get stuck to. It is recommended to cover it with masking tape before use.
Cannot cope with complex builds
Creates a course and rigid surface finish
Fortus 380 mc
The Stratasys Fortus 380mc is a production grade system that enables you to produce complex prints in over ten materials. Capable of handling prints with advanced complexity and high requirements of today's manufacturers, this machine is truly designed for the factory floor where it's ideal for producing custom tools, jigs and fixtures, working prototypes, end-use parts and more.
We conducted the Eiffel Tower test on one of our Fortus 380mc machines using red ABS P430 and as can be seen, the model came out quite well. Whilst there were a few minor build errors, the print was one of the best out of out all of the models produced and shows that the Fortus 380mc is capable of coping with highly complex geometries which often occur in custom tools and parts using generative design.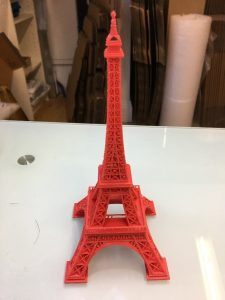 The main benefits
Access the widest range of engineering grade materials
Can print out complex and high requirement parts e.g. ability to embed hardware, circuiting, and other non-thermoplastic materials into parts easily
No special facility is required as the printer does not produce any noxious fumes, chemicals or waste.
High reliability and repeat-ability for the professional environment
The downfalls
Not ideal for office due to its large footprint although it can theoretically be safely installed in any environment
More difficult to use that the other models and not as intuitive as the F Series. Some training would be required before use
The entry cost of this machine is higher than the other models as it is designed for a high-end professional environment
We hope this has cleared up some confusion when choosing to incest in a 3D printer! By carrying out the Eiffel Tower test on each model, we have demonstrated the capabilities and limitations of each model on one of the most challenging geometries there is to print. Overall, It will ultimately depend of what you're using the printer for, whether you are a professional or a hobbyist, and the level of accuracy and reliability you need when deciding which printer is right for you.
Thinking of making the investment? Give our team a call and we'll be happy to offer impartial advice on which technology is best suited to your application. For more info, call 01782 814551 or email info@tritech3d.co.uk .