MakerBot Replicator +
The MakerBot Replicator Plus is the ideal creative solution for the office environment. As a desktop friendly device, the MakerBot replicator features a smart extruder, and LCD display and USB, WIFI and Ethernet connectivity.
Ideal for testing out concept designs and rapid prototyping, the MakerBot Replicator Plus is 30% faster than its predecessor is and offers a 25% larger build volume; in addition, it also offers greater reliability and precision with improved hardware.
Having gone through over 380,000 hours of vigorous testing, this 3D printer enables reduced warping and curling, has easier to move flex build plates, and is ready to go straight from the box! Experience Innovation at your fingertips with no delays from outsourcing to another design team, just print your ideas straight from the office.
The MakerBot Replicator Plus now works with the brand new and superior PLA Plus. Created for designers and engineers, this material enables you to create high-impact strength prototypes and fixtures. It has been tested and optimised to print reliably and easily with the tough PLA smart Extruder+, meaning with the MakerBot Replicator Plus and PLA Plus, there is no limit to your creativity.
The MakerBot Plus Replicator allows you to take an initial idea to an object in one smooth process, meaning less debating with your team and more tying out, less doubt and more conviction, less planning and more processing.
Give form to designs and let ideas become a reality with the MakerBot Replicator Plus. For more information, please contact the team.
View more info
Build Volume: 29.5 L X 19.5 W X 16.5 H CM
Layer Resolution: 100 microns
Product Dimensions: 52.8 L X 44.1 W X 41.0 H
Product Weight: 18.3 KG
Supported File Types: STL, OBJ
Power Requirements: 100-­240 V, 50-60 HZ 0.76-0.43 A
Currently there are no case studies assigned. You can view our full range of case studies here.
Leasing 3D Printers
Tri-Tech 3D provide direct rental contracts on our full range of 3D printers, which can include post processing equipment and extended warranty, making your investment into 3D printing both affordable and help plan your annual expenditure.
Funding in the most part, is provided by our sister company Stanford Marsh Finance (a division of the Stanford Marsh Group) or via our numerous strategic finance partners/brokers.
Rates are frequently checked to ensure competitiveness in the market place and you will find our terms highly attractive.  With options such as fixed term contracts, step rentals which make payments lower in the earlier years allowing time to grow the use from your new device.  Or deferred payment, enabling you to benefit from the technology ahead of when you start paying.
Why lease 3D Printers?..
Not only can leasing be financially beneficial to companies, but it can also give you the ability to remain ahead and current with technology. It also means your entry point to utilisation of a professional 3D printer is far more affordable than you may think – a professional 3D printer from as little as £299 per month, (including a wash system and 12-months support).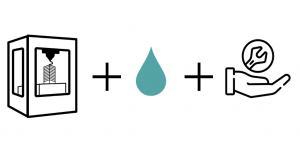 Furthermore, if like many companies today you are outsourcing 3D printing via a 3D Print Bureau, you are already spending an amount each month that when converted to a lease, could represents an in-house option at no extra cost (savings possibly).  Either talk to one of our team, or send us details of your average spend and we can help provide an ROI report.
In addition to our excellent rates, as an end user dealing directly with one vendor for finance, equipment and after sales care, your rental agreement will provide you with a future flexible upgrade path. We've enabled companies to acquire new technology prior to the completion of the minimum rental period, without the usual high termination figure charged by outside finance agencies.
All finance is subject to approval and none of the solutions detailed above are guaranteed to suit all scenarios. What we can promise however, is we will do our utmost to make the finance of your 3D Print solution as affordable and easy as possible.
If you are interested in further information, please contact us.
New to 3D
Printing or looking
for some support?
Get in touch
Trade in
and trade up...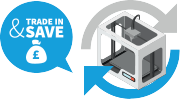 Your old 3D printer could be worth far more than you think!
Find out more