A new journey in RAF Engineering
The Royal Air Force (RAF) has taken its first step into advanced component manufacturing with the opening of the Hilda B Hewlett Centre for Innovation. The facility, which is equipped with state-of-the-art 3D printing and scanning equipment, will allow the RAF to design and produce its own aircraft components on demand using additive manufacturing, or more commonly known as 3D printing.
No. 71 (IR) Squadron, part of the RAF A4 Force, introduced the project in 2020 under the leadership of Squadron Leader. The squadron, which is responsible for repairing damaged structures on UK military aircraft and providing specialist inspection services, will work closely with technology partners including Stratasys, Nikon, Renishaw, and Wayland Additive to advance the capabilities of 3D printing technology.
Squadron Leader Auchterlonie Officer Commanding No 71 (IR) Squadron commented:
One day the Royal Air Force could manufacture custom-built structural aircraft components for rapid aircraft repairs. This technology has endless possibilities in supporting and delivering air power and the opening of this facility is a landmark in this exciting journey.
The Hilda B Hewlett Centre for Innovation features cutting-edge equipment, including the Wayland Additive Calibur3 3D printer and a Nikon HTX 540 CT scanner that can examine objects in detail. The centre also boasts a RenAM 500 metal printer from Renishaw and a Stratasys Fortus 450 polymer printer, providing reliable 3D printing capabilities.
The Stratasys Fortus 450, sold by Stratasys UK Partner Tri-Tech 3D will allow them to print flight ready parts exploring the capabilities of Nylon 12CF and ULTEM 9085.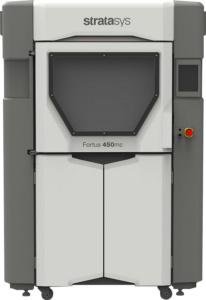 These advanced tools allow the RAF to reproduce aircraft components with accuracy and precision, but rigorous testing is required before any manufactured component can be used on an aircraft.
Joe Godfrey, Stratasys Sales Specialist commented:
Tri-Tech 3D worked closely with Senior Account Manager Rob Macdonald & Senior Applications Engineer Matthew Jones from Stratasys to meet the ambitions of RAF 71 Squadrons Inspection and Repairs goal of additively manufacturing flight ready parts. All parties worked towards a successful, shared outcome.
The centre was officially opened by Air Chief Marshal Sir Mike Wigston, Chief of the Air Staff, who praised the combined efforts of 71 (IR) Squadron, the RAF Rapid Capabilities Office, and Project ASTRA in bringing "Project Warhol" to life.
Group Captain Huntley A4 Force Elements Commander commented:
 Additive manufacturing offers us enormous potential to repair and modify our aircraft quicker than ever before. Introducing any new capability into the RAF is a serious undertaking and the team at 71 Squadron have gone about this with professionalism and almost obsessive diligence. This is a genuine milestone; a real achievement and I am proud that this project has been led by the A4 Force.
At the opening, Helen Close, Heritage Officer for the Women's Engineering Society, also spoke about the life of Hilda B. Hewlett, the first British woman to hold a pilot's license, who led the development of aircraft technologies during World War I.
For further information on the Fortus 450 or to discuss your applications, please get in touch