Corrosion resistant stainless steel
Desktop Metal recently released their brand new 316L Stainless Steel material, available to print on the Studio System. 316L stainless steel is the second material available for printing parts with this system. It is one of the six core materials in active development—including 17-4PH (available now), Inconel 625, H13 tool steel, Copper, and AISI 4140.
What is 316L Stainless Steel?
This particular stainless steel is characterized by it's corrosion resistance and good mechanical properties at both high and low temperatures. 316L is a fully austenitic material (contains 16 to 26 percent chromium and up to 35 percent nickel), non-magnetic as well as not harden-able by heat treatment.
Some of the most common uses for 316L stainless steel would be:
Chemical and petrochemical processing
Food processing
Petroleum refining
Water treatment
Pulp and paper manufacturing
Jewellery
Marine
Medical devices
Heat exchanger tubes
Laboratory equipment
Characteristics of 316L include:
Higher creep resistance
Excellent formability
Repture and tensile strength at high temperatures
Corrosion and pitting resistance
What does the L mean?
L-grades have 0.03% carbon maximum. L grades are resistant to sensitisation in short-term exposures or heat treatments.
Bound Metal Deposition (BDM) and 316L
The Studio Systems ability to use 316L makes it easy for designers and engineers to print 316L parts on-demand in their office or lab. It allows teams to iterate quickly on prototype parts and achieve complex geometries that have not been possible with traditional manufacturing methods.
Application Examples….
John Zink Hamworthy Combustion | Fuel Nozzle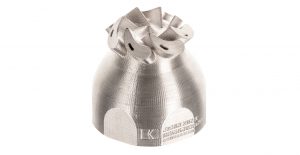 The UHT nozzle is a fuel atomizer used with a medium, such as steam or air. It is typically installed in an HXG marine burner which is used on steam propulsion boilers on LNG tanks. The purpose of the atomizer is to improve low load burner performance. The part is made up of complex internal channels, that can only be achieved using additive manufacturing. This company chose 316L due to it's excellent corrosion resistance and mechanical properties at high temperatures (like those of a combustion chamber!).
Medical Finger Splint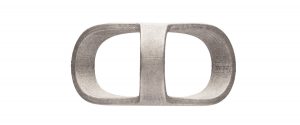 This finger splint is used in the medical industry to immobilize or limit the range of motion or injured limbs. These are typically manufactured using the traditional method of injection moulding, however using this method can make them susceptible to breaking and brings with it limitations to design. The ability to print these on the Studio System allows them to design with freedom and achieve geometries that just aren't achievable via traditional manufacturing methods.    3D Printing the medical finger splint out in 316L allowed the part to be more durable, have better mechanical properties and have a nice aesthetic finish to it – compared to the plastic alternative.
Want to find out more about this material? Get in touch! info@tritech3d.co.uk