H350 3D printer now offers unique 3D printing functionality within the GrabCAD Print application
GrabCAD Print simplifies the traditional 3D print preparation workflow and provides intelligence around printer usage so that your team can get quality prints, faster, saving you both time and money. Even better, it is now available on the NEW Stratasys H350 SAF platform.
GrabCAD Print for the H350 provides an unmatched level of control. From print preparation to printer connectivity, control the packing arrangement of your 3D nest to meet exact print and time requirements.
See below some key features…
Labelling Options
Parts can be labelled for easy identification to ensure part quality and aid post processing. The label may be created as a 'Basic' one off label or as a 'Template' label, like a unique serial number, that can be reused on multiple parts or duplicated parts.
Part Nesting
Choose between Automatic nesting and Manual nesting to ensure an optimally packed tray to get the most parts per print.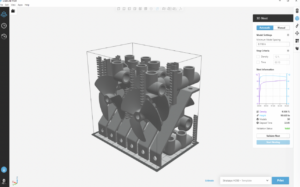 Intuitive Shrinkage Compensation
Prevent wasted time and material cost with shrinkage compensation that is applied by the software at the time of slicing. All 3D nest preparation is done using printed dimensions, ensuring that an automatic nesting operation will always be valid. 
Printer Monitoring
View the status of your print jobs in your printer fleet, receive print job notifications, and report on printer utiliSation and material usage. 
Seamless Relationship between software and hardware
The GrabCAD Print software that supports the H350 3D printer not only helps guarantee an accurate print, but also offers valuable production insights.
Print time estimations
Business intelligence
Validation checking
Build file integrity checking
To find out more about GrabCAD print for the H350 get in touch with our team.