Discover how the new FDM Nylon 12CF can be your best alternative to metal
When you are designing for industrial uses, the natural tendency is to use aluminium or another alternative metal alloy. The reason for this is due to their mechanical properties that tend to be well above the requirements of any applications! However, in many occasions, thermoplastics have the required strength and properties to work, but lack the rigidity to perform the task. Manufacturers will always go with what they know, and what has been put through it's paces….metal!
This is where the Stratasys composite materials come into play. Adding a reinforcement to a base polymer can drastically change the mechanical properties to the point that metal replacement becomes a reality for many tooling uses. To achieve this task, Stratasys cleverly developed their strongest material yet: FDM Nylon 12CF.
How did they do this?
Stratasys started off by adding chopped carbon fiber to their proven FDM Nylon 12 blend, 35% by weight, to enhance the mechanical properties of the polymer. The result? A material with the highest stiffness-to-weight ratio of any FDM material currently produced and a tensile strength on par with other high-performance FDM materials. Due to the unique directional orientation of carbon fibres, the new material exhibits anisotropic properties that can be tailored similar to a composite laminate. This enables parts to have a higher uniaxial stiffness than injection moulded parts of the same material.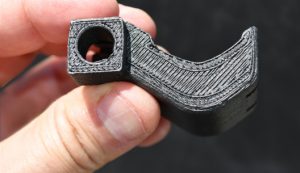 Possible applications…
Robotic end effectors (end-of-arm-tooling)
Manufacturers that can reduce the mass at the end of a robotic arm, know that it can have many positive benefits. Reduced wear and tear is a key consideration when designing them, but reduced mass is often overlooked, which offers benefits through a smaller-class, lower-cost robot.
Jigs/Fixtures
Using Nylon 12CF can enable users to create production jigs and fixtures for applications where they previously weren't considered, due to material flexibility. With Nylon 12CF boasting a tensile modulus over 3x higher than the next closest FDM material, users can expect a significant reduction in part deformation applied loads.
Bracketry
FDM Nylon 12CF brackets can drastically reduce the weight for bracketry but still have the same stiffness in an industrial setting. This is especially beneficial for brackets of moderate to high complexity that would require multiple components or difficult machine setups due to part geometry.
Nylon 12 CF Quick Facts
High melting temperature of 223 degrees celcius
Despite the unique nature of the material, no specialist skills are required to use it or even post-process it after
Produced parts are lighter than traditional metal equivalents
Available on the Stratasys Fortus 450mc, F900 & the Fortus 380 Carbon Fiber edition
Highest flexural strength of any FDM thermoplastic in the market
It uses support material that is easily dissolved away, allowing for complex geometries that don't require post-processing
How can I get it?
Now we've given you all the benefits of this fantastic Stratasys FDM, here's how you can be printing with it in no time. Nylon 12CF is available for the Fortus 450mc FDM 3D Printer, the Fortus 900 and comes as standard on the Fortus 380 Carbon Fiber edition. The support material used with Nylon 12CF is SR-110 (Fortus Plus). Please be aware that this is a soluble support so a wash station is required to soak the parts in to dissolve the support material away. The wash stations contain a sodium hydroxide solution that is heated and agitated to dissolve the support material quickly.
If you are looking to investigate further in to Nylon 12CF, or already have a Stratasys printer and want to get printing with this new FDM material then drop us a line: info@tritech3d.co.uk to get your free Nylon 12CF sample & further information.