This month, we're taking a deep dive into one of Stratasys's most popular PolyJet materials – Vero Clear.
This month, our focus in on Vero Clear, a translucent Stratasys PolyJet material that simulates a material commonly known as Acrylic. With its translucent properties and combination of high strength, stiffness, elongation and impact resistance, Vero Clear is an ideal 3D printing material for a variety of applications within the industries we work with and is also one of the most budget friendly materials available in the PolyJet range.
Continue reading to find out more about Vero Clear…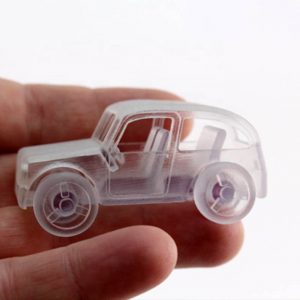 Why do we love it?
As a PolyJet material, with Vero Clear you are able to produce smooth and accurate parts with a microscopic layer resolution and accuracy down to 0.014 m. whilst traditional manufacturing can limit the designer's level of creativity, PolyJet printing allows for more complex geometries and thin walls, thus removing any design constrictions and opening up a pathway for more innovative design.
Our team love how Vero clear can be combined with other materials in one single print to form a wide range of models. If you've received our material of the month newsletter, you will have seen the model of the human heart which has been printed in Vero Clear on the outside, but with coloured parts on the inside to represent the arteries. Models like this are a vital component to the medical industry and are ideal for use in pre surgical planning discussions, as well as in the training of new medical students.
Of course, Vero Clear is also widely popular in many other industries, particularly for consumer goods, product prototypes and design verification.  To find out more about how Vero Clear is used within the consumer goods industry, check out our case study with Quadpack who have been using Vero Clear amongst other materials in conjunction with the J750 to produce three distinct types of product packaging.
What are its star qualities?
Transparency – With a glass like transparency, Vero Clear's unique transparent properties make it ideal for parts which mimic PMMA. The transparent properties also enable users to see through the part and identify how it interacts with other components, as well as form and fit testing.
Strength and Stiffness – As an alternative to glass, Vero Clear is ideal for uses such as light covers, cases and lenses and is also less likely to break than glass. As a sturdy material, models made with Vero Clear can be used to form and fit testing and are able to stand up to being handled on a daily basis without becoming damaged.
(Team Tip – We love taking Vero Clear models to exhibitions as they're great to put on the stand and won't break easily when being transported between venues or whilst being handled by inquisitive visitors!)
Water Resistant – Vero Clear is a water resistant material and is able to come into contact with water for brief periods of time. This means Vero Clear models are easy to clean! Although we don't recommend putting them in the dishwasher…
Creativity – Vero Clear is unique in the way designers are able to inject hints of colour into the material to create different coloured parts within one print. This is particularly great for anatomical models.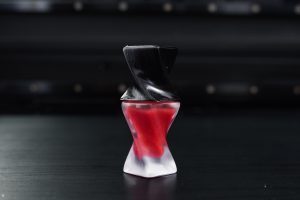 Top Applications
Functional testing
Consumer goods
Medical devices
Eye-wear
Light covers
Artistic and exhibition modelling
What are people saying about it?
In a step aimed at increasing innovation, Quadpack purchased a Stratasys J750 from Tri-Tech 3D. The 3D printer is now at the heart of the Design and Advanced Technologies department.
Robert Pitts, Technical Sales Specialist at Tri-Tech 3D commented:
Quadpack was no stranger to single material 3D printing but in order to take it to the next level they needed the ability to print multi-materials with full colour, clear and flexible resins all in the one print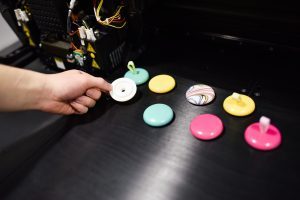 In addition, Director of Design and Advanced Technologies at Quadpack Jeremy Garrad commented:
Having been limited on colour, materials and production time with our previous 3D printer, we bought the J750 because we needed greater speed and flexibility to produce we needed greater speed and flexibility to produce the three types of model we use
To find out more about our material of the month, ask your account manager or get in touch with our team at info@tritech3d.co.uk / 01782 814551