This month, we're taking a deep dive into Stratasys's unique elastomer material – TPU 92A.
This month, we're taking a deep dive into Stratasys's unique elastomer material – TPU 92A. As an elastomer, TPU 92A has superior stretch capabilities compared to other FDM materials and doesn't lose its shape when put to the test. With a variety of users from automotive to aerospace, rapid prototyping and more, TPU 92A is an incredibly versatile material that's allowing manufacturers to push the boundaries of traditional design.
Continue reading to find out how….
Why do we love it?
Whilst traditional manufacturing processes such as using traditional silicone or CNC moulds are a solid and historical process, they can often be incredibly costly and have a long lead time. TPU 92A is truly a game changer when it comes to reshaping future workflows. This material can be put to work in real prototyping and extreme production environments whilst providing the design freedom that additive manufacturing offers. When combined with water soluble support material, manufacturers have the opportunity to produce large, complex, durable and resilient elastomer parts that were previously not feasible. What's more, TPU 92A compliments the F series range which boasts an easy to use workflow and user-friendly software.
For a truly hassle free experience, the hands free soluble support material used alongside TPU 92A decreases labour time by up to 76%.
What are its star qualities?
Superior Resilience – TPU 92A combines flexibility and stretch with abrasion and tear resistance
Complex Designs – TPU's agility and resistance qualities work in unison, allowing designers to create complex geometries that are simply just not achievable with other manufacturing methods
Reliability – With a 92 Scale A Shore hardness rating, high tensile strength, superior elongation at break percentage and superior tear strength, TPU 92A can be relied on in harsh working environments
Quick Turnaround – With non-stop printing, reliable and repeatable results, and a streamlined workflow with files being imported directly from CAD to GrabCAD Print, workflow has never been more efficient or streamlined.
Top Applications
With the top industries for TPU 92A being Automotive and Transportation, consumer goods, and industrial goods, applications have included –
Seals and gaskets
Surface protection covers
Mats and liners
Bellows
Wheels and rollers
Hoses and Tubes
Ducts
Manufacturing Aids
Top Trump Card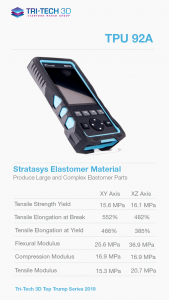 What are people saying about it?
Milwaukee School of Engineering (MOSE) beta test the FDM TPU 92a on the Stratasys F123 for creation of their product designs. They comment –
The definition of a good elastomer is it can bend, stretch and then return to its original shape. The new FDM TPU 92a material from Stratasys provides those characteristics. Elastomers are now in demand for production of medium to large sized production parts and manufacturers need Stratasys machines to build their prototypes and short production runs.
To find out more about our material of the month, ask your account manager or get in touch with our team at info@tritech3d.co.uk / 01782 814551