Pack Line Ltd Overcomes Low Volume Production Barriers with FDM Additive Manufacturing
Established in 1994 and head quarters in Israel, Pack Line Ltd are a recognised world-leading manufacturer of packaging machines and supplier to some of the biggest names in the food, dairy and cosmetic industries.
The company produces innovative linear, rotary filling and sealing machines, piston fillers and MAP systems that increase operating efficiency whilst lowering operating costs.
Each machine Pack Line designs is customised to a specific industry or customer requirements resulting in a low volume of required parts. Producing low quantities with traditional manufacturing comes with high costs and long lead times. To avoid these bottlenecks, Pack Line turned to a local Stratasys partner for a rapid and cost effective solution.
Overcoming Time and Cost Barriers
Traditionally, Pack Line relied on techniques like metal forming or CNC machining to create replacement parts. However the lead time to produce complex, customised parts was proving extremely costly, especially considering their extensive international customer base.
For a solution, Pack Line worked with a local Stratasys partner SU-PAD to implement Stratasys FDM additive manufacturing.
Alex Karetny, Engineering Department Manager at Pack Line commented:
To produce a complex metal machine part using CNC would cost at least $100 a unit and we'd always be obliged to purchase at least four units. However, by using the Fortus 450mc the cost is reduced to around $80 a unit.
Cost savings isn't the only benefit. CNC or metal-formed replacement parts also need to be outsourced and due to low quantities, typically take a minimum of one week to produce. In contrast, the F450 can produce a replacement part in only two hours.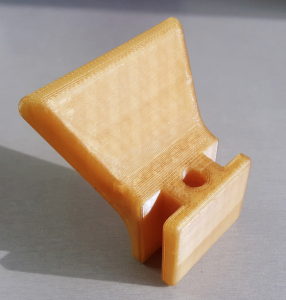 See above: ULTEM™ 1010 thermoplastic resin was used to make this final 3D printed machine part because of its superior strength, high chemical and thermal resistance.
Greater Design Freedom
The Fortus 450 also gives greater design freedom. This was demonstrated when the team were tasked with producing a hopper for a food packaging machine. The hopper is assembled inside a metal detector which means it cannot be made from metal. Pack Line chose to make the hopper from ULTEM 1010 resin material.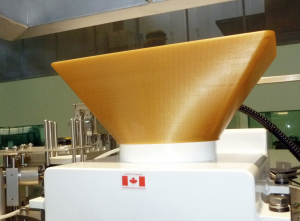 See above: The 3D printed food packaging machine replacement part 3D printed in ULTEM™ 1010 resin material
3D Printed Thermoplastic Replaces Metal Production Parts
Additionally Pack Line needed to produce machine parts that were not only cost-effective and time-efficient but strong and reliable.
The solution was ULTEM 1010, one of the strongest FDM materials available, that also offers high chemical and thermal resistance. Produced on the Fortus 450mc the pushers were 3D printed and returned to Pack Line for testing.
Karetny commented:
The strength of the part was instantly clear. It withstood all the tests on the machine and it's durability was impressive. Now our customer is using six of these replacement pushers on it's machines to huge success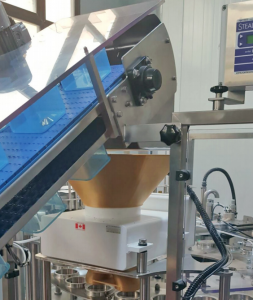 Pack Line also credits the materials capabilities for the parts longevity. As Karetny explained, the team expects the performance of these 3D printed parts to surpass 5-6 million cycles. Moving forward, Pack Line intends to increase it's use of additive manufacturing for parts with complex designs and geometries. Stratasys printers and materials will be integral for this effort to produce on-demand, efficient replacement solutions for it's customers.
Do you have an application similar to this? Get in touch with our technical team: info@tritech3d.co.uk