Dawood & Tanner improve dental patient care with 3D printing
Founded over 25 years ago in London, UK, Dawood and Tanner is a specialized dental practice that covers all aspects of dentistry, from implantology to orthodontistry and beyond. The practice strives to be at the forefront of digital dentistry advancement, and they have pioneered 3D printing since 1999.
Improving Treatment
Since adopting 3D printing, Dr.Andrew Dawood and his team have elevated treatment for all their patients. Many procedures use 3D printed implant and surgical guides as integral parts of the treatments.
Highly precise and anatomically accurate, the 3D printed models and customized surgical guides are produced within hours of the patients first visit. Producing surgical guides in a variety of colours and textures enables the surgeons to prepare for complex surgeries ahead of time, thus resulting in less-invasive surgical procedures. Thats why Dawood and Tanner chose an Objet260 Dental Selection for their in-house 3D printing, to take advantage of it's multi-colour, multi-material capabilities. Dr Andrew Dawood commented:
With an in-house 3D printing solution that can produce 3D printed models overnight and unsupervised, we can ensure an accurate model is created within hours. This means we can now see a patient on a Monday morning and have an accurate, tailored and specific treatment plan based on a 3D printed model of the affected area the very next day
Expert Surgical Planning
Planning advanced maxillofacial dental surgery is one way Dawood and Tanner employ their printer. When preparing for advanced surgeries such as a mandible reconstruction, visibility of the impacted area and practice are essential.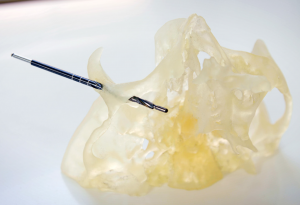 A mandible reconstruction is an incredibly complex surgery with lots of variables. The practice has reduced surgical time by hours, allowing the team to provide better treatment and increase the number of patients they are able to treat. Surgeons also use the models to explain the procedure to patients, making informed consent faster and easier.
Dr Dawood concludes:
As we move forward, I can see our 3D printer enabling us to better train staff and surgeons of the future. From multi-material, multi-colour surgical guides to prosthodontic models and anatomical models, the Objet 260 Dental Selection provides us with the utmost flexibility.