A guide to MakerBot 3D printers and their applications, from the Sketch Classroom to the MakerBot Replicator+
From sector-disrupting New York start-up to a division of the world-renowned Stratasys, MakerBot is still pushing the envelope in the 3D printer sector. Here's an introduction to the technology and the MakerBot 3D printers we supply
What are the roots of MakerBot – and is it still in business?
Back in 2009, MakerBot was founded in New York City by tech entrepreneurs Bre Pettis, Adam Mayer and Zach Smith. But the twist came in June 2013, when the world-renowned 3D printing pioneer Stratasys acquired MakerBot in a $604 million stock deal. The MakerBot brand thrives to this day.
What kind of printer is MakerBot?
MakerBot 3D printers employ Fused Deposition Modelling (FDM) technology. Fundamentally, this type of 3D printer extrudes a thermoplastic filament in a series of layers over a build plate to create a 3D object. Used alongside production-grade thermoplastics, FDM 3D printing delivers tough, rugged and dimensionally stable parts, while many argue this technology gives the best accuracy and repeatability.
Is MakerBot a good 3D printer?
Powered by Stratasys' patented technologies, MakerBot 3D printers are ideal for many applications and sectors, from consumer electronics to automobile parts. As a one-stop solution for additive manufacturing, and official supplier of Stratasys products, we're pleased to offer a range of MakerBot 3D printers.
The MakerBot Sketch Classroom 3D printers are compact and reliable. They're perfect for educational settings, offering a built-in HEPA filter and an enclosed chamber that makes them totally safe for use in a school setting.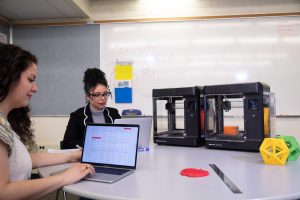 The Method model bridges the gap between entry-level and industrial printers, featuring a controlled heated build chamber and dual extrusion: the resulting parts have consistent dimensional accuracy and optimal part strength. The Method X builds on that spec, while the Method X Carbon Fibre Edition enables the printing of strong, heat-resistant metal replacement parts.
Finally, the MakerBot Replicator+ 3D printer was released in 2016, replacing the original Replicator and soon becoming one of our most popular models.
What can the MakerBot Replicator+ do?
The Replicator+ is a rock-solid and ultra-reliable entry-level printer used for printing in PLA (polylactic acid) and Tough PLA. With print speeds 30% faster than its predecessor, alongside a 25% larger build volume, the Replicator+ is ideal for swiftly putting concept designs and prototypes through their paces.
The Replicator+ is easy to use and one of the best solutions for producing repeatable prints. But be aware that to print using the Acrylonitrile butadiene styrene (ABS) thermoplastic, a heated print chamber (as featured on the Method X) is required.
How do I use the MakerBot Replicator+?
As with all MakerBot 3D printers, the Replicator+ is highly intuitive. But to get you off to a flying start and help you explore the full potential of this model, Tri-Tech 3D is pleased to offer both a comprehensive installation service and 3D print training to unlock the deeper features.
Our Certified Stratasys 3D Print Training Courses set the industry standard, and our expert trainers are always happy to adapt our programmes to suit you. Whether you'd prefer an introductory workshop on MakerBot fundamentals or a deep dive into a specific business-focused area, just let us know and we'll create the ideal in-person or remote training.
Can I still use past MakerBot models like the Replicator Z18?
Yes. Although the MakerBot Replicator Z18 is now a discontinued model, it is still supported and can be used through MakerBot Print and MakerBot Cloud Print. At Tri-Tech 3D, we also give training on this model through our 3D Print Academy – and offer trade-ins against the cost of higher-level 3D printers.
The most respected supplier of MakerBot in the UK – and much more
As the UK's trusted experts in additive manufacturing, Tri-Tech 3D's range of MakerBot printers is just one strand of a complete 3D printing solution including Stratasys 3D printers, materials, software, installation and training. Trust us to lead you all the way to complete 3D printing capability.
For 3D printers, software, hardware and support in the UK, call Tri-Tech 3D on 01782 814551 or email info@tritech3d.co.uk