Tri-Tech 3D exhibits full range of production capabilities at TCT 3SIXTY
To help businesses understand the benefits of additive manufacturing, Tri-Tech 3D, UK provider of Stratasys, One-Click Metal and XJet 3D printing solutions, is attending TCT 3SIXTY 2023. On June 7 and 8, at the NEC, Birmingham, attendees can visit Tri-Tech 3D in Hall 1 on Stand E29. Visitors to the stand can see a full range of application-led parts, including jigs and fixings, alongside various 3D printing systems that can be installed on the factory floor.
The stand will showcase Stratasys fused deposition modelling (FDM) offering, that creates parts from plastic filaments by melting and then depositing them in layers. As part of this, the company will bring the Stratasys F370 CR 3D printer, which produces parts using a large range of thermoplastic and elastomeric materials and is easy to integrate into office environments.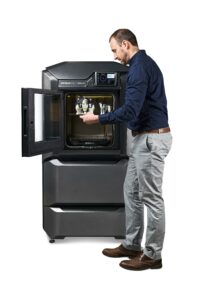 The stand will also celebrate the selective absorption fusion (SAF) technology that Tri-Tech 3D offers, the powder bed Stratasys H350. The H SeriesTM is designed for the shop floor environment to help deliver functional, production-grade parts consistently and with minimal maintenance.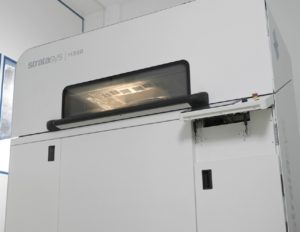 Visitors can also discover Stratasys PolyJet technology and how it can benefit their rapid prototyping workflow. PolyJet additive manufacturing (AM) technology produces smooth, accurate parts and colour material finish (CMF) prototypes by jetting layers of curable liquid photopolymer onto a build tray.
On the stand visitors will also see the One Click Metal bold series MPRINT powder laser print system, offering high-quality metal printing powders ranging from 17-4 PH stainless steel to aluminium.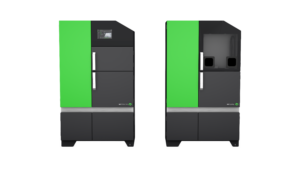 Finally, Tri-Tech 3D will also showcase various application-led XJet ceramic parts so that visitors can get a feel for how components can benefit a wide variety of industries.
Robert Pitts, Sales Manager at Tri-Tech commented:
Establishing a successful AM process is about more than just machines. Naturally, machine and material choice are important, but many engineers require technical support to guide them through the process too. That's exactly what we're here for. At the show, our experienced team can answer the questions manufacturers and designers have about 3D printing, to help them establish processes that deliver technical and commercial success. We look forward to meeting with the wider industry and discussing with visitors how additive manufacturing can boost high-volume production by saving time, improving quality and reducing long-term costs.
You can also catch Rob on the Introducing Stage on 7th June at 13:40 presenting "Picking the right additive manufacturing solution for your application".
To arrange a meeting with Tri-Tech 3D at TCT, book a session here.