Discover our material of the month - Nylon 12CF
To kick off our 2019 Material of the month focus, we're bringing the spotlight down on Nylon 12CF. Coined as Stratasys strongest FDM material, Nylon 12CF is a chopped carbon fibre-filled polyamide 12 material that's 35% carbon-fibre by weight. Specifically designed for the production environment, this material is ideal for the production of parts during the design verification process and the replacement of metal tooling for applications such as forming and end-of-arm tooling.
Why do we love it?
Nylon 12CF has the highest stiffness to weight ratio out of the Stratasys FDM material range and due to the unique directional orientation of carbon fibres, it exhibits anisotropic properties that can be tailored similar to a composite laminate. This means Nylon 12CF is often superior to that used in the traditional injection moulding process due to its higher level of uniaxial stiffness.
What's more, the unique composition of Nylon 12CF enables parts to have a higher in-elasticity than injection moulded parts of the same material, allowing for distinct freedom of design that is not present in traditional thermoplastics and additive manufacturing.
What are its star qualities?
Highest strength to weight ratio in the Stratasys FDM material range
High tensile strength (Its ability to resist being pulled apart)
High flexural strength (its ability to resist deformation under a bending load)
let's you build strong, stiff, lightweight tools and parts
The combination of high strength, stiffness and light weight lets you use FDM Nylon 12CF to replace metal components
Meets the demanding needs of the production environment
Top Applications
How does it compare to other materials?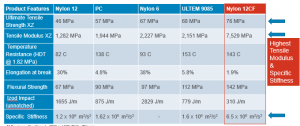 Top Trump Card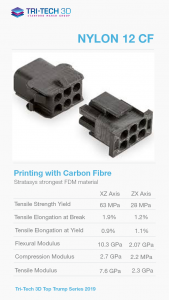 What are people saying about it?
Stratasys Nylon 12 Carbon Fibre parts can be printed faster, with superior stiffness-to-weight performance and with better repeatability than any other 3D printing technology or vendor we've seen."
Ashley Guy, President & CEO, Utah Trikes
For more information on our material of the month, keep an eye on our social media channels. You can also contact our sales team on 01782 814551 or email info@tritech3d.co.uk.