Visit us at the largest design to manufacturing event of the year
We're pleased to announce Tri-Tech 3D will be exhibiting at the annual TCT exhibition next week! TCT is one of the world's leading design-to-manufacturing events, focused on additive manufacturing, 3D printing, and design and engineering technology. The TCT show has been around for over 20 years and this year will have over 300 exhibiting companies and more than 10,000 visitors from across 40 different countries.
Whether you work in the manufacturing industry and are looking for a partner or supplier for your next project, a professional interested in the latest additive manufacturing and engineering technology, or just a fan of 3D printing, we look forward to welcoming you onto our stand (P18) at the NEC!
What's new?
This year we're back bigger and better than ever with the latest 3D print machines, materials and models to share with you. We've worked on some fantastic projects this year and have a number of new case studies to share with you. We'll also be discussing some of the latest Stratasys and Desktop Metal developments including new material releases, a fantastic new PolyJet colour development and new machine releases! Best of all, we'll have the one and only Stratasys J750 on the stand for you to see in action.
What's more, as we've recently become Desktop Metal platinum partners, this year you'll be able to catch Desktop Metal themselves on our stand. The DM team members are making a trip across the pond and will be on hand throughout the show to discuss the latest developments in metal 3D print technology, including the new Studio System Plus release and Desktop Metal fleet. If you're interested in finding out how the technology works, you can visit our stand throughout the show for a live demonstration from the DM team where you'll be shown how the technology operates, the types of applications it can be used for and some of the parts which have been produced.
Competition time
For those that visited last year you'll remember our 3D printed 'guess the famous person' light board competition, which turned out to be highly popular. This year, we're running a competition in partnership with our sister company the 3D Print Bureau; participants will be in with the chance of winning £150 of 3D Print Bureau Credit each day, with an additional grand prize of a MakerBot Mini up for grabs on the final day of the show!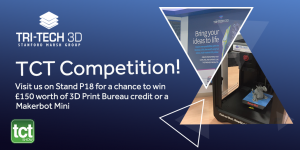 See you there?
Last but not least, we'll be announcing some exciting news at the TCT show this year. Keep your eyes peeled for clues from Monday the 24th, as well as a couple of our team members walking around the show with information. We look forward to seeing you at this year's TCT show!