Stratasys introduce three new printers to their portfolio
27th April 2021 saw Stratasys announce three new 3D Printers to bolster their already strong manufacturing line-up of systems. These new printers are set to revolutionise the manufacturing space with systems able to print parts with the same quality of finish as you'd get using an injection molded process. Mass production is now easier than ever with these new additions.
We do, however, understand it can be quite overwhelming with a lot of information getting chucked your way, so we've gone through below what the printers do, how they work, and what applications they're best suited for – to help you understand if they are right for you and your business needs.
What's new?
Three new systems – two new technologies – three absolute GAME CHANGERS for the manufacturing industry as we know it. Stratasys tend to be well known for their FDM and PolyJet systems, which may we add are still fulfilling their role and are excelling in their fields. However, Stratasys (being Stratasys) wanted to push the bar even higher. Meet the Origin 1, H350, and F770.
This new printer is powered by Programmable PhotoPolymerization P3™ technology. This is where a responsive print process monitors polymerization data and automatically optimizes process conditions to deliver the best possible results. It allows you to achieve high throughput whilst being combined with best-in-class repeatability, helping you to expand production without delays, so you can launch faster and respond flexibly to shifts in demand while maintaining minimal inventory.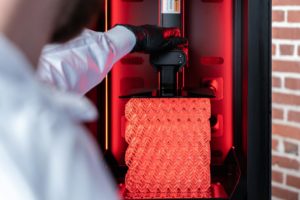 Ideal for…
Connectors, clamps, ducts, brackets, HVAC components
Enclosures and Housings
Fluidic devices and manifolds
Footwear midsoles
Gaskets, sports cushioning
Handles and grips
Medical device components
Powered by the powerful new SAF™ (Selective Absorption Fusion) technology launched by Stratasys in early April, the H350 brings a new meaning to production parts. This technology and printer were designed for production-level throughput of end-use parts. SAF technology uses an infrared-sensitive HAF (High Absorbing Fluid) to fuse particles of polymer powder together in discreet layers to build parts. It uses Big Wave™ powder management, a proprietary technology that includes powder distribution across a bed, where industrial-grade Piezo-electric print heads jet the fluid in prescribed areas to create each layer of the part. This is followed by exposure to infrared energy, which causes the areas with HAF to melt and fuse together. The sequence is repeated until the parts are completed.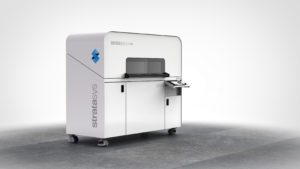 Ideal for…
Robust Bulky Parts: Molds, load-bearing parts such as brackets, machine components, jigs, fixtures, adapters, and manifolds
Quality Finished and Durable parts: Impact-resistant parts like eye-wear, consumer electronic cases and ear-phones
Parts with moving components: Components and parts like hinges, clips, snap fits, connectors and housings.
Think FDM, but think BIG parts and huge bed size at an affordable price. The Stratasys F770™ makes printing large, complex parts affordable, reliable, and easy. It offers one of the largest print volumes among Stratasys FDM systems. With over 13 cubic feet of build volume and the widest build chamber (X direction), the F770 provides the capability to build large parts or sizable assortments of smaller parts. Soluble support material enables complex designs and hands-free post-processing.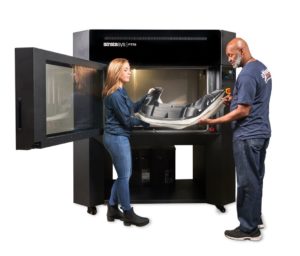 Ideal for…
Jigs and Fixtures
Manufacturing Aids and Tooling
Large Prototypes
Production Parts
Verification and Functional Prototypes
End of Arm Tooling
When get I can get one of these machines?
Due to the recent launch of all three new systems, Stratasys are working tirelessly to get as many systems manufactured and ready for shipping as possible. It's a tall order, but one we fully trust the worlds leading Additive Manufacturing company to do! See below order dates and shipping dates for the systems….
F770
Customer shipments: TBC
H350
Customer shipments: September 2021
Stratasys Origin 1
Customer shipments: End of 2021
NB: All of the above dates are subject to change.
For further information and technical specifications on the systems, you can access these on our product pages: H350, Origin 1, F770. If you want to organise a demonstration or benchmark parts to be printed, get in touch and this can be arranged with one of our product specialists.