Tri-Tech 3D becomes exclusive One Click Metal distributor in the UK
The system supplier for metal 3D printing systems One Click Metal enters into a partnership with the company Tri-Tech 3D, which is based in England. One Click Metal will benefit from the partner's extensive expertise in both 3D printing and CAD/CAM software for the metalworking industry.
With the new and exclusive distribution partner Tri-Tech 3D, the BOLDseries from One Click Metal is now available in the United Kingdom and Ireland. Tri-Tech 3D is thus expanding its portfolio to include the Laser Powder Bed Fusion process, which can be used to profitably realise components from a wide range of application fields.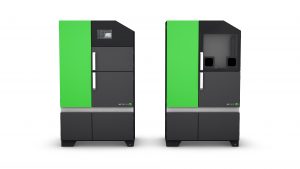 One Click Metal and Tri-Tech 3D share the common goal of promoting the use of metal 3D printing technologies in various industries such as mechanical engineering, tooling, automotive as well as education and universities and making them accessible to a broad group of customers. Tri-Tech 3D has a strong network and the necessary experience from more than 15 years in the market. Hence, One Click Metal and Tri-Tech 3D will be able to respond to and optimally serve customer needs in the market.
Tri-Tech 3D has many years of experience in industrial 3D printing and is also very knowledgeable about the digital AM process chain beyond the process. This makes it the ideal partner to enable a wide range of companies and users to successfully use metal AM technology in the UK
Gerrit Brüggemann – CEO One Click Metal
Tri-Tech 3D will be present with the 3D metal printing system BOLDseries from One Click Metal at the renowned 3D printing exhibition TCT 3Sixty in Birmingham at the end of September. Manufacturers and service providers from the 3D industry will present the latest 3D printers and their diverse application possibilities at the show. The sale of metal 3D printing systems from One Click Metal will commence in conjunction with TCT 3Sixty.