Fine ceramic material with great chemical and physical stability
Alumina is renowned for its high mechanical strength, hardness, wear resistance and thermal conductivity, as well as its very good electrical insulation and resistance to high temperatures. Like zirconia, which XJet also offers, it has very good resistance to chemicals and is a great insulator. The material is also considered to be hard to machine using methods like CNC, especially after they have been sintered into shape.
What are the qualities of Alumina?
Excellent electrical insulation
High mechanical strength
New to 3D
Printing or looking
for some support?
Get in touch
Trade in
and trade up...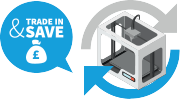 Your old 3D printer could be worth far more than you think!
Find out more