Introducing the MakerBot Method - the first MakerBot industrial grade printer
As a subsidiary of Stratasys, MakerBot have for just over a decade provided leading desktop 3D print technology to designers, educators and professionals. Known for their ease of use and accessibility, MakerBot have enabled individuals and SME's to utilise 3D print technology with their systems which are suitable for a range of professional applications. However, until now there has been a gap in the market for accessible industrial-grade 3D printing.
Introducing the MakerBot Method. The MakerBot method bridges the gap between industrial and desktop 3d printing for the first time, making industrial 3D printing features accessible to individual designers and engineers. Combining the industrial technologies and expertise from Stratasys, with the accessibility and ease of use for which MakerBot is known, the MakerBot Method is set to be a game changer.
Here's our summary of the main features of the MakerBot Method below…
Industrial Grade Performance
The MakerBot method is designed to deliver industrial reliability and precision by carefully controlling every aspect of the 3D print environment. This enables repeatable and consistent parts with ± 0.2 mm dimensional accuracy, as well as vertical layer uniformity and cylindricity. In addition, the dual extrusion system combined with water-soluble PVA provides a superior surface finish, and enables unlimited design freedom and unrestricted geometries such as complex overhands without scarring; features that until now have been limited to industrial-grade 3D printers.
Reliability and Repeatability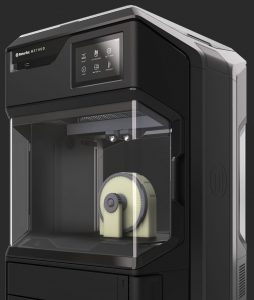 The Circulating Heated Chamber controls the temperature and quality of every layer. In providing full active heat immersion during the entire duration of the print, Method allows printed materials to cool at a controlled rate, providing higher dimensional accuracy while improving layer adhesion and part strength
– Dual Performance Extruders are built for high-speed printing without compromising part accuracy. A dual-drive gear system grips the material securely while a powerful 19:1 gear ratio provides up to 3X the push force of a typical desktop 3D printer. This allows Method to provide a consistent feed of material into the hot end to produce consistent geometry. The new lengthened thermal core is up to 50% longer than a standard desktop hot end to enable faster extrusion rates and, allowing for smooth extrusion throughout its high-speed movements and accelerations.
– Precision PVA Dissolvable Supports enable fast and easy support removal without compromising part design or dimensional accuracy. Water-soluble PVA provides unrestricted geometric freedom and superior print quality and surface finish without the need for harsh solvents of industrial 3D printers or manual labour of removing breakaway supports.
– Dry-Sealed Material Bays form a seal to keep filament material pristine and reduce moisture absorption. A suite of built-in sensors monitors humidity and alerts users of any changes to the environment—a feature previously only available in industrial 3D printers. This feature is especially crucial for water-soluble PVA, which quickly absorbs moisture when left in the open with devastating consequences on print quality.
– The Ultra-Rigid Metal Frame runs the full length of the Method body to offset flexing. Less flexing means more consistent prints with better part accuracy and fewer failures.
Materials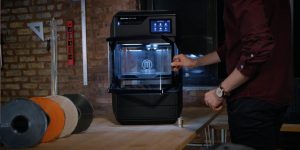 MakerBot Materials for Method are manufactured to exacting diameter and quality specifications. Shipped in a vacuum-sealed metalized polyester bag, quality can be preserved right up until opening. MakerBot offers two categories of materials for use with Method: Precision and Speciality.
Precision Materials are extensively tested by MakerBot for the highest reliability and measurably accurate parts and include MakerBot Tough, MakerBot PLA, and MakerBot PVA.
Speciality Materials are for users looking for materials with advanced properties to push the limits of what's possible. These materials provide basic print performance and can require additional workflow steps to print successfully. The first material on the platform is PETG, one of the most widely used polymers with excellent engineering properties, with more to follow.
Advanced Workflow Features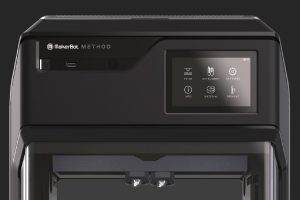 – The Smart Spool provides valuable information, including type, colour, and amount of material remaining via an RFID chip directly to MakerBot Print, while desiccant in the spool maintains a low moisture level inside the drawer bay.
– The 5" Capacitive Touchscreen provides the latest status updates of current print jobs and allows users to navigate the menus in the most intuitive way.
– MakerBot Print Software easily integrates with 25 of the most popular CAD programs to allow designers and engineers to design with what they know best. For easy collaboration, teams can also save 3D files as projects and share them via the native Cloud Management platform. Method's built-in on board camera also allows users to monitor their print progress remotely with MakerBot Print or the MakerBot Mobile app.
– The Spring Steel Build Plate provides true flatness for unyielding part accuracy and enables the printed part to pop off the plate.
So there you have all of the top features of the new MakerBot Method; the first MakerBot printer to bridge the gap between desktop and industrial 3D printing. For more information on the MakerBot Method, contact our team.