Take a look at our latest material of the month - Ultem 9085, the Aerospace industries go to material.
With new and continual developments in aerospace technology, there is now a great deal of aerospace companies investing in 3D print technology to stay ahead of the competition. From Marshall Aerospace and Defense Group, to Boom Supersonic, to NASA, Rolls Royce, Boeing, and many other big names out there, additive manufacturing is proving to be a game changer for the aerospace industry. That's why this month we're putting the spot light on Ultem 9085!
What is Ultem 9085?
Ultem 9085 is an FDM thermoplastic best known for its use in the automotive, military/defence and aerospace industries due to its high strength to weight ratio and FST (flame, smoke, toxicity) rating. In addition, Ultem 9085 is officially a type 1 certified material for aircraft interior components, providing aerospace manufacturers with the ability to use AM to produce parts with repeatable characteristics and consistent quality for certifiable manufacturing.
Carry on reading to find out how you could be utilising Ultem 9085…
Why do we love it?
Ultem 9085 has one of the highest strength to weight ratios, as well as high thermal and chemical resistance, making it an ideal choice for creating complex tooling, flight ready parts, under-hood parts and ground ready equipment.
Ultem 9085's listing in the material properties database means that the material's mechanical and physical properties, as well as processing parameters are accessible to relevant bodies, providing aerospace engineers with a baseline understanding of how to design for AM. What's more, Automotive and Aerospace engineers can now utilise the material as an actual manufacturing tool with the reassurance of repeatable and consistent results.
The great thing about this FDM thermoplastic is that it's not just suited to the Aerospace and Automotive industries. As the all-round toughest material in the FDM range, Ultem 9085 is ideal for intensive prototyping within a variety of industries and as it also satisfies flame and toxicity standards, it stands up as one of the safest materials to use too.
What are its star qualities?
ULTEM 9085 CG resin possesses documented traceability from filament back to raw material lot number.
It comes in two forms – Ultem 9085 for general purpose manufacturing, and Ultem 9085 Aerospace which conforms to the strict standards of Aerospace governing bodies.
In terms of the FDM range, Ultem 9085 has the most going for it with the highest strength to weight ratio, highest chemical and thermal resistance and flame and toxicity rating.
Ultem 9085 is already being used in a number of military, civil and business aircraft
Top Applications
Boom Supersonic
One of the most high profile companies to be utilising Stratasys' Ultem 9085 is Boom Supersonic, a company which aims to 'create the fastest commercial airliner using supersonic travel' and is striving to 'make the world dramatically more accessible'.
Since 2017, Boom Supersonic have been using the Stratasys F370 and Fortus 450mc to help accelerate the development of their XB-1 through tooling, prototypes and test benches, 3D printing over 200 parts in the process.The company have since been utilising Stratasys' AIS package to speed up and streamline the qualification of its additively manufactured parts for aircraft installation. They comment on their use of Ultem 9085 –
"Working together, our teams have put the technology to work for efficient, reliable and repeatable prototypes, tooling and jigs and fixtures. Now, we're ready to go further – for strong, durable, lightweight production-grade aircraft parts."
Marshall Aerospace
The Marshall Aerospace and Defense Group is one of the world's largest privately owned and independent aerospace and defence companies with the aim of pushing the boundaries to engineer accurate, complex, functional and lightweight parts with streamlined costs.
Marshall Aerospace are currently using Ultem 9085 to manufacture flight-ready parts for several of its military, civil and business aircraft – while engineering specific ground-running equipment at lower costs than typical aluminium alternatives. They're also integrating Stratasys technology into 3D printed ductwork flying on heavily modified aircraft – as well as key aircraft interior components.
Since incorporating additive manufacturing processes, Marshall Aerospace have realised major cost savings for their 3D printed prototypes, alongside a 63 percent reduction in overall part weight.Chris Botting, Materials, Processes and Additive Manufacturing Engineer at Marshall comments –
"Printers and materials enable us to meet our increasingly aggressive deadlines and complex manufacturing requirements. In the future, there's no doubt that 3D printing will continue to have a significant impact in the way we design and manufacture in our business."
How does it compare to other materials?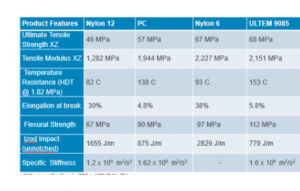 Top Trump Card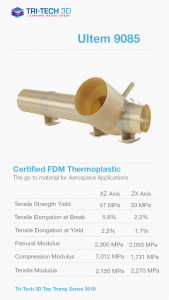 So there you have our material of the month! Whilst Ultem 9085 is the top material choice for Aerospace, Automotive and other transport applications that require rigour and traceability, it's also an excellent material choice for those manufacturing applications which require a sturdy material that can stand up to real word forces.  For more info on our material of the month, contact your sales representative or alternatively get in touch with us on 01782 814551 or email  sales@tritech3d.co.uk