Motorsports leader buys Neo800 3D printer for better surface finish, throughput and reliability
Team Penske, one of the most recognisable and successful teams in motorsports, has purchased a new Stratasys Neo®800 3D printer. The system is Team Penske's first stereolithography-based 3D printer from Stratasys and will be used to rapidly print scale model components for aerodynamic testing.
Matt Gimbel, Production Manager at Team Penske commented:
As additive manufacturing's applications continue evolving in racing, Stratasys continues to help us rapidly improve race performance ahead of the competition so we can turn ideas into parts and get them onto the racetrack faster than ever before and with greater reliability than ever before. We can now make parts in ways not possible through traditional manufacturing.
The open materials model for the Neo printers is seen as a key benefit, along with the high quality of the surface finish and the reliability of the Neo system, Gimbel says. Enabling Team Penske to source material from any vendor gives the organization maximum flexibility in material selection. In addition, the large build volume of the Neo800 3D printer (800 mm x 800 mm x 600 mm) allows them to print larger parts with less time spent hand sanding, sectioning and joining parts together for wind tunnel testing.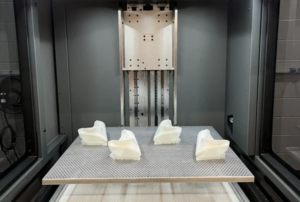 This purchase builds on a technical partnership dating back to 2017 with Stratasys. Historically, Stratasys has provided Team Penske with a variety of FDM® and PolyJet™ technology-based 3D printers for prototyping, tooling, fixturing, and end-use parts in cars and pit equipment.
With 38 national championships, including 17 in INDYCAR SERIES competition, Team Penske has often been referred to as the New York Yankees of motorsports. The team recently produced single-season records of 40 victories and 45 pole positions to go along with three championships across its five series of competition around the globe. In 2022, Team Penske became the first team to win both the NASCAR Cup Series and INDYCAR Series Championship in the same season.
To learn more about the NEO series of 3D printers or to get your own sample parts printed, get in touch with our team.