Prosign transforms production of 2D exhibition displays with Stratasys F370 3D Printer
UK large format printing and sign specialist, Prosign Print and Display, has installed Stratasys' FDM-based F370 3D Printer to boost its creative design and production capabilities for the events and exhibition sector. The investment extends the company's service offering and opens the door to new business opportunities among both existing and new clients.
Based in Nottingham, the business undertakes a diverse array of projects using 2D large format printing, including point-of-sale, packaging, exhibition, and signage. However, the management team sees 3D printing as a complementary solution to significantly add to its applications expertise – one of the key drivers behind the investment in the F370 via Stratasys' local partner, Tri-Tech 3D. Indeed, according to Prosign owner and managing director, Steve Hardy, the exhibitions and events sector, in particular, provides immediate potential to demonstrate the capabilities of the system.
Expanding Application Capabilities
Steve Hardy, Owner and Managing Director at Prosign explains…
We design and custom build a lot of stands for tradeshows, which typically comprise creative wall displays that need to incorporate things like brackets, hooks and hinges. The problem is that we find ourselves often de-valuing a beautifully-designed display as we invariably have to make-do with generic off-the-shelf fixings. Not only that, but we are usually obliged to purchase these in bulk, which means we end up with far more than we need.
According to Hardy, the F370 is already providing immediate benefits by allowing the company to cost-effectively 3D print small numbers of functional items with a high level of accuracy, in the exact quantity required.
From a creative perspective, the 3D printer also enables the Prosign team to add things like an embossed logo or image to the various fixings it produces. Far from ruining the overall theme, such customized items can instead now be made to blend subtly within it, although according to Hardy, this is only a small example of how displays can be made more eye-catching.
Hardy commented:
Additionally, we can add extra creative impact to 2D wall graphics by including much more eye-catching and visually appealing elements. For instance, think of a 3D printed finger protruding out of a 2D display, next to the words, 'We want you', or a small-scale replica Tardis coming out of a Dr Who poster. Previously, this would have taken a great deal of time as such models would need to be handmade, which even meant that it sometimes wasn't viable. In contrast, the F370 allows us to explore new creative ideas and easily produce samples cost-effectively in just a few hours.
Exemplifying the newfound creativity, Hardy cites an interior design project that saw the team design and 3D print customized lamp shades to suit a specific multi-shaped copper-surfaced theme.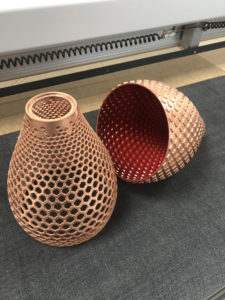 Hardy continued:
We never imagined that we could produce such stunning bespoke items for customers as the lampshades, but as we've explored what is achievable, we've learned there's so much more we can do. We now go into customer meetings with the confidence to suggest creative ideas, knowing that we have the firepower to realise them.
Driving new business opportunities
As well as serving the needs of clients directly, the F370 is already proving its worth in facilitating wider new business conversations outside of the company's immediate orbit of operations. This is epitomized by a recent project that saw Prosign reverse-engineer a discontinued part for a breathalyzer machine, required by a bus company for its drivers.
Hardy explained to us…
We developed an accurate fully-functional working prototype, which the customer needed to manufacture in high-volume – something that we were ultimately able to help him with through one of our injection-molding suppliers. Were it not for the F370 and our ability to quickly produce and approve a prototype, we wouldn't have been involved in commissioning and supplying the eventual order of final units
The company now hopes to extend its Stratasys 3D printing capability beyond its heritage customers by adding a service bureau arm to its offering. Hardy commented:
This is partly why we made the investment in the F370 – for the potential to drive new revenue streams and give us the versatility to explore new opportunities beyond our existing mainstay activities. While a lower-end 3D printer could have possibly given us some of what we now get, I recognized immediate limitations. I don't like to compromise, so would rather invest in a leading brand and industrial-grade machine that is reliable and progressive enough to deliver on our needs farther down the line. In business, you don't get anywhere by standing still, but the F370 enables us to move forward and push boundaries as we do so.