An introduction to the advantages of additive manufacturing for creating composite tooling
Use additive manufacturing to produce your composite tooling and you'll give your company the edge. Here's how FDM 3D printers are rewriting the rules of composite tooling production – and how you can get started.
What's the problem with traditional tooling? 
Take a closer look at global manufacturing trends and you'll sense the tide turning. It's true that in 2021, traditional tooling techniques are still the dominant force, with metal tooling accounting for 75% of the market.
But industries around the world are fast awakening to the significant pain points of metal tooling, including high costs, long lead times, rigid production runs, restrictions on design, and heavy tooling that presents challenges in real-world use.
With composite tooling – created using the additive manufacturing process known as Fused Deposition Modeling (FDM) and the latest generation of FDM 3D printers – these challenges simply disappear. Let's find out more.
What are the benefits of additive manufacturing for composite tooling? 
Also known as 3D printing, additive manufacturing is an industry game-changer. As firms around the world are fast discovering, there is no more efficient or economical way to custom-produce composite structures for a specific application.
Unlike the frustrating months-long delay associated with metal tooling, FDM composite tooling can be designed at pace, fine-tuned throughout the process then produced at scale in days. And because you can handpick the materials that make up your composite tooling, you can prioritise factors ranging from core temperature to co-efficient of thermal expansion.
As a result, you'll slash lead times, satisfy fluctuating demand without overproducing, avoid touch-labour and create lightweight, easy-to-handle tooling that performs in any temperature or working environment. Best of all, of course, all these benefits will ultimately show up in your bottom line.
What are the applications for FDM composite fabrication? 
The flexibility of additive manufacturing – alongside the wide range of materials compatible with FDM 3D printers – means this technology can be used across the gamut of composite tooling. Some of the most common applications are:
composite patterns
lay-up and repair tools
consumable tools and cores
jigs and fixtures – but there's really no limit!
As experienced suppliers of 3D printers in the UK, the Tri-Tech 3D team has helped countless different industries create composite tooling with additive manufacturing. But for an inspiring example of additive manufacturing helping a homegrown firm make giant leaps, read this case study on Dash-CAE: an Oxfordshire motorsport design and prototyping company whose production capabilities were transformed by the large-scale Stratasys Fortus 900 3D printer installed by Tri-Tech 3D's experts.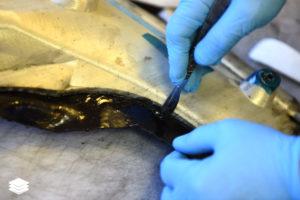 With the Fortus 900's bed size of nearly 1.3m – and a vast array of rugged FDM 3D printing materials at their fingertips – the Dash-CAE team was able to think bigger, producing next-generation composite parts for the F1 industry that ticked the boxes of innovation, performance, functionality, and safety.
Take your first steps into additive manufacturing with Tri-Tech 3D 
As one of the most respected suppliers of Stratasys 3D printers in the UK, Tri-Tech 3D is ready to help with every stage of the additive manufacturing process. From no-obligation advice on which FDM 3D printers are right for you to installing your new product and even sharpening your 3D Printing skills with our 3D printer training – our expert team is on hand and ready to help.
Call us today on 01782 814551 or email info@tritech3d.co.uk