New to 3D
Printing or looking
for some support?
Get in touch
Trade in
and trade up...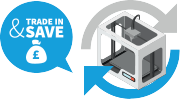 Your old 3D printer could be worth far more than you think!
Find out more
Why do companies buy a 3D Printer?
That's a good question and asking it today we think has changed significantly from had it been posed 15-years or so ago. Traditionally a 3D Printer provided solutions to Rapid Prototyping, a functional model to prove fit, form & function, or to convey a design intent to a client (better than a 2D drawing, or even rendered 3D imagery).
And when that was the end requirement, the focus was more on choosing a manufacture who built reliable devices that print right first time and in the professional sector, where repeatable accuracy could be achieved.
Why do people buy from Tri-Tech 3D?
We could say we are a well-established company, part of a larger group, with years of industry experience, six UK locations and our own finance company. All of which is true, but also sounds familiar to what the others may say and in some cases, a "so what".
Why we think our customers buy from Tri-Tech 3D and not just once, is we are a 'customer centric' business who treat people how we like to be dealt with ourselves. We want to know what you will get out of a system investment, we want to help drive that adoption and we want to see customers being successful.