Programmable PhotoPolymerization P3 technology has blown open the possibilities of 3D printing. Discover more here.
What is P3 technology and why is it unique?
While the 3D printing sector has always moved fast, Programmable Photo-Polymerization (P3) represents a quantum leap. As the revolutionary technology powering a new generation of Stratasys 3D printers like the Origin One, P3 optimises several key steps in the 3D printing process. By harnessing this powerful technology, ambitious manufacturers can unlock a level of accuracy, flexibility and speed when mass-producing functional end-use parts that simply wasn't possible before.
Extending the capabilities of DLP (Digital Light Processing), the P3 process precisely controls and monitors parameters including light, temperature, pull forces and pneumatics, giving high degrees of control and reproducibility.
Meanwhile, P3's production-grade technology is also expressly designed to support applications that use the new breed of photopolymers. Whatever material you use, you can rely on unrivalled part quality, surface finish and part performance, backed by competitive throughput and part cost.
What are the key benefits of P3 Technology?
Across the gamut of global industry, manufacturers are waking up to the far-reaching benefits of P3. The first thing you'll notice about a P3-printed end-use part is the exceptionally high quality, with both large-scale and ultra-precise features consistently rendered with unbeatably smooth surfaces.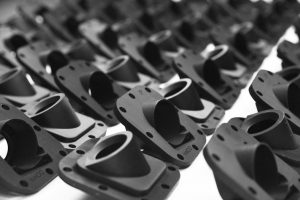 Just as important for businesses, meanwhile, is the improved throughput enabled by P3, due to the orchestrated print process, alongside advanced light control that allows maximum green strength and production rate.
In addition, don't overlook the fact that P3 is designed to bring the best from the latest photopolymers, allowing these revolutionary materials to withstand demanding environments and perform to their best, every time.
How does P3 work?
The P3 process can be broken down into four critical areas.
Light
Programmable light causes an exothermic reaction that forms layers with unparalleled resolution, accuracy and dosage control.
Environmental stability
25+ environmental sensors plus temperature control prevents warping and shrinkage, while supporting materials with specific qualities like flame retardancy.
Pneumatic separation
Pull forces are reduced by P3's unique separation procedure, resulting in impeccable surface finish, high throughput and astounding accuracy for both intricate features and large surface areas.
Motion
Printer movements are controlled in surgical detail, allowing a fast, repeatable and precise workflow in your choice of geometries and performance materials.
Green Strength
P3 supports high polymerisation conversion, allowing faster print times, extreme geometries and build nesting.
What are the key applications of P3?
While 3D printing is already renowned for its flexibility, P3 takes that open-ended ethos and runs with it. As you'll discover in the case studies below, this technology can be applied to industries across the gamut, from biomedical and aerospace to sports and robotics.
As the proprietary tech that drives Stratasys 3D printers like the new Origin One, P3 can be tailored to create 3D printed parts including medical equipment, aerospace electrical connectors and even the bindings on snowboards. With P3 printing, there's no limit to what you can manufacture.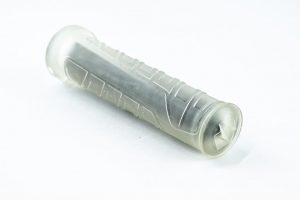 How did P3 become part of the Stratasys portfolio?
When Stratasys launched the powerful new Origin One 3D printer in April 2021, it was essential that this groundbreaking hardware was powered by equally revolutionary P3 technology.
We believe our P3-enabled Origin One 3D printers are ideal for addressing a wide range of in-demand production applications on a global scale.
says Chris Prucha, vice president of P3 research and development and product management at Stratasys and an Origin co-founder.
What case studies can I read to understand P3's potential?
Perhaps the best way to grasp the value of P3 is to consider the real-world applications this technology has already enabled. Founded in 1963 in Denmark by Birte and Karl Toosbuy, ECCO is a footwear manufacturer that employs over 21,000 people worldwide. When the firm's designers took on the challenge of finding a more efficient method of attaching a sole to a shoe, they ultimately turned to the P3-enabled Origin One for 3D printing moulds. The results were so good that, over the next year, ECCO added multiple Origin One P3 3D printers to its facilities in Denmark and Portugal.
The Stratasys P3-enabled Origin One was also at the heart of the project when TE Connectivity – a global leader in the manufacture of connectors and sensors – wanted to speed up the turnaround speed of its supply chain. And when an existing client approached with a brief requesting connectors and holders for a newly designed helicopter, only the Origin One could meet the demands of timeline, quality and production materials.
As TE Connectivity Senior Manager, Mark Savage, noted:
Stratasys has been a great partner in helping us optimize accuracy and repeatability for connectors that require +/- 50 micron accuracy, and demonstrating the possibilities of using additive manufacturing to produce part volumes in the tens of thousands.
Ask Tri-Tech 3D's experts about P3 technology
Tri-Tech 3D is one of the UK's leading authorities on additive manufacturing and experts on new P3 technology. Whether you'd like to hear more about our range of Stratasys 3D printers, or ask about our 3D printer training, we're ready to chat now on 01782 814551 or info@tritech3d.co.uk