Desktop Metal expands printing materials library with Copper
​Desktop Metal​ has announced the launch of copper for the Studio System, an office-friendly metal 3D printing system for low volume production. With its excellent thermal and electrical conductivity, copper is considered an ideal material for transferring heat or electricity and is used in virtually every electronic device made, as well as in many of the heat exchangers used across a variety of industries, including oil and gas, automotive, and consumer products.
A key benefit for Desktop Metal customers is that the copper material used with the Studio System is pure copper. Unlike laser-based processes, which often print chromium zirconium copper, the Studio System's proprietary Bound Metal Deposition process is able to print pure copper, unlocking the full benefits of the material.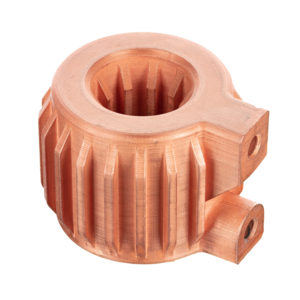 Jonah Myerberg, CTO and co-founder of Desktop Metal commented:
Known for its excellent thermal and electrical conductivity, copper is a highly desired material for a variety of industries and applications, such as heat exchangers and electrical components for heavy industries to consumer products.
Early customer applications demonstrating the material's benefits include:
Manufacturing: Electrode Holder
Automotive: Motor Heat Sink
Chemical Processing: Helical Heat Exchanger
Electric Power Distribution: Bus Bar
Copper is now the latest addition to the Studio System materials library that also includes 4140 Chromoly steel, H13 tool steel, 316L, and 17-4 PH stainless steels. In addition to materials that are already available, Desktop Metal's team of materials scientists are continuously working to develop new materials and processes to make 3D printing accessible to even broader industries and applications.
For more information on the Desktop Metal materials portfolio for the Studio System, or to get your sample of Copper – get in touch with our metals team.