All purpose steel for industrial applications
This brand new alloy is perfectly suited to applications that include aerospace, tool and die manufacturing, the oil and gas industries, as well as automotive, agricultural and defence sectors, 4140 steel displays an excellent general tooling and end-use material due to its high strength-to-weight ratio, torsional strength and general toughness.
A low alloy steel that contains chromium, molybdemum, and manganese, 4140 is typically used to create gears, spindles, fixtures, jigs and many other parts, including:
Couplings
Connecting Rods
Sheet Metal Tooling
Pump Shafts
Sprockets
New to 3D
Printing or looking
for some support?
Get in touch
Trade in
and trade up...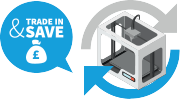 Your old 3D printer could be worth far more than you think!
Find out more