Polyjet Objet24
The Objet24 Stratasys 3D Printer enables you to extend your creativity by testing more ideas and developing only the right projects for your company. This Polyjet 3D Printer allows you to print highly accurate models for visual aids, fit and assembly testing and general prototyping.
The Objet24 only uses a single material – VeroWhitePlus. This material is a rigid white opaque material that's perfect for prototyping because of its dimensional stability and high-detail visualization. Because it only prints with VeroWhitePlus, a rigid, white opaque, you'll produce realistic models with small moving parts, thin walls, and smooth, paintable surfaces. Fully cured models can be handled and used immediately, without additional post-curing, meaning you can see your models earlier and make better decisions on whether to move forward with production.
Build Size: 234 x 192 x 148.6 mm
Layer Thickness: Horizontal build layers down to 28-microns (0.0011 in)
Software Compatibility: Polyjet Studio
System Size: 82.5 x 62 x 59 cm
Power Requirements: Single phase: 100-120V~; 50-60Hz; 7A 200-240V~; 50-60Hz; 3.5A
Accuracy: 0.1 mm (0.0039 in) – varies according to geometry, part orientation and print size
Digital Materials

Fabricate digital materials with our range of PolyJet 3D Printers

Read More
Currently there are no case studies assigned. You can view our full range of case studies here.
Leasing 3D Printers
Tri-Tech 3D provide direct rental contracts on our full range of 3D printers, which can include post processing equipment and extended warranty, making your investment into 3D printing both affordable and help plan your annual expenditure.
Funding in the most part, is provided by our sister company Stanford Marsh Finance(a division of the Stanford Marsh Group) or via our numerous strategic finance partners/brokers.
Rates are frequently checked to ensure competitiveness in the market place and you will find our terms highly attractive.  With options such as fixed term contracts, step rentals which make payments lower in the earlier years allowing time to grow the use from your new device.  Or deferred payment, enabling you to benefit from the technology ahead of when you start paying.
Why lease 3D Printers?..
Not only can leasing be financially beneficial to companies, but it can also give you the ability to remain ahead and current with technology. It also means your entry point to utilisation of a professional 3D printer is far more affordable than you may think – a professional 3D printer from as little as £299 per month, (including a wash system and 12-months support).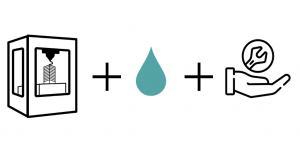 Furthermore, if like many companies today you are outsourcing 3D printing via a 3D Print Bureau, you are already spending an amount each month that when converted to a lease, could represents an in-house option at no extra cost (savings possibly).  Either talk to one of our team, or send us details of your average spend and we can help provide an ROI report.
In addition to our excellent rates, as an end user dealing directly with one vendor for finance, equipment and after sales care, your rental agreement will provide you with a future flexible upgrade path. We've enabled companies to acquire new technology prior to the completion of the minimum rental period, without the usual high termination figure charged by outside finance agencies.
All finance is subject to approval and none of the solutions detailed above are guaranteed to suit all scenarios. What we can promise however, is we will do our utmost to make the finance of your 3D Print solution as affordable and easy as possible.
If you are interested in further information, please contact us.
Objet 24 Brochure Downloads
New to 3D
Printing or looking
for some support?
Get in touch
Trade in
and trade up...
Your old 3D printer could be worth far more than you think!
Find out more